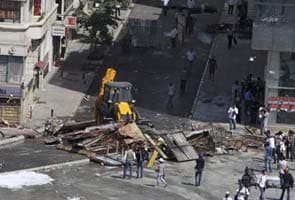 Istanbul:
They came in the early morning, rousing sleeping protesters with bursts of tear gas that could only mean one thing: Taksim Square, the festive epicentre of Turkey's anti-government demos, was a police-free zone no more.
Armed with riot shields and backed by armoured cars with water cannons, hundreds of riot police poured into the Istanbul site for the first time since withdrawing over a week ago, surprising demonstrators, many of whom were still recovering from a night of chanting and dancing.
In their first order of business, police stripped the dozens of colourful banners denouncing Prime Minister Recep Tayyip Erdogan from the facade of a run-down cultural centre, replacing them with a single Turkish flag and a large poster of Mustafa Kemal Ataturk, the founding father of modern Turkey.
Next, they let in bulldozers to tear down protesters' makeshift barricades of gates, steel rods and trash cans.
In the adjoining Gezi Park, demonstrators clambered out of their tents, tired and stunned. It was here that the nationwide unrest began 12 days ago, when a heavy police response to a campaign to save the park's trees from being razed spiralled into nationwide anger against Erdogan and his Justice and Development Part (AKP), seen as increasingly authoritarian.
Hours earlier, the protesters had been celebrating after their combative premier, who has dismissed the protesters as "extremists" and "vandals", agreed to meet with leaders of the protest movement.
"Can you believe that? They attack Taksim, gas us in the morning just after proposing talks with us? What kind of leader is that?" said Yilmaz, 23, in a Besiktas football t-shirt.
"We won't abandon Gezi, they can send thousands of policemen," he vowed. "I am not afraid of their water cannon, it'll be my first shower in three days."
Hundreds of protesters in helmets and gas masks fanned out across the square, hurling fireworks, rocks, bottles and molotov cocktails at police, then scrambling to flee the acrid clouds of tear gas and sprays of water that inevitably followed.
Unsuspecting morning commuters caught up in the scuffles scurried across the smoke-filled square, coughing and wiping their running eyes.
As running battles went on for hours, lines of officers stationed themselves at key entry points to the square, and a circle of blue uniforms in the centre surrounded a monument to Ataturk, in a symbolic re-claiming of the square.
Nearby Gezi Park, however, remained peaceful and free of police presence, with local officials assuring demonstrators they would not forcefully remove the tent city that has sprung up there.
But under the towering sycamore trees, tension was mounting between demonstrators pleading for peaceful resistance and those wanting to join the battle for Taksim.
"You're just staying here not doing anything, you have no honour," shouted one woman, wearing a t-shirt in support of an extreme-left group.
"Stay calm, violence is exactly what the authorities want," another woman hit back.
In the Gulluoglu pastry shop that borders the square, stoic waiters offered trays of sliced lemon instead of the usual baklava to customers, a simple but effective remedy to clean tear-gassed eyes.
Outside, a street vendor watched the volleys of tear gas fly but stands his ground, not wanting to miss the opportunity to hawk his goggles and gas masks.
As evening fell, the clashes raged on intermittently in the square. Some protesters formed a human chain, chanting at police to "Get out of Taksim".
But the police presence on the square only increased with the passing hours, as the angry chanting of protesters grew louder, leaving many to wonder about the night ahead.
"Can you hear the slogans? This is only the beginning. If they chase us out, we will be back," vowed pensioner Ali, 63, a surgical mask covering his mouth.