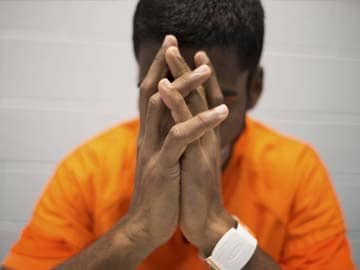 New York:
Five Sri Lankan men left hometowns reeling from the remnants of a ruthless civil war and embarked on a months-long human-smuggling journey that spanned seven countries.
They each paid $55,000 for a ride by air and sea to a fresh chance in the Americas. They were captured within hours of their arrival in South Florida and served as witnesses for the FBI in the investigation of their smugglers, cooperation that the men were led to believe would work in their favour as their cases made their way through immigration courts.
Three years later, they are still waiting for their cases to be resolved.
Studies show the average detention in federal immigration cases is one month; the five asylum seekers, despite having no criminal records, have been in immigration jails since late 2010.
Experts in immigration law say the cases highlight the subjective nature of immigration enforcement, where a detained refugee's chance at freedom can depend largely on whose docket the claim lands, a phenomenon known as "refugee roulette." And they raise broader questions about how the government treats undocumented immigrants who cooperate in trafficking investigations.
A lawyer for the men, all of Tamil origin, said their deportations were imminent. Last week, lawyers from the American Civil Liberties Union challenged the detentions in federal court.
"Jail life is a horrible life," said one of the men, a 35-year-old fisherman who, like the other detainees interviewed for this article, spoke on the condition of anonymity because of his country's record of arresting and torturing deportees of Tamil origin. "If I stay here any longer, I will go crazy and, when I go back, I will be a mad person."
The fisherman said that in Sri Lanka he was being extorted for money, received telephone death threats and was forced to quit his job with an opposition party. After contacting a wealthy smuggler known as Mohan, he left his wife and toddler and fled on a five-leg flight: Sri Lanka to Dubai to Moscow to Cuba to Haiti.
In Haiti, he met Mohan, and the other Tamil immigrants who would become his companions in a years-long court battle. They left Haiti for the Bahamas, then embarked for Florida on Dec. 5, 2010.
They were brought to a safe house, another Sri Lankan in the group, whose first initial is R., said in an interview at the Krome Service Processing Center, an immigration jail in Miami at the edge of the Everglades. He said they were given a warm meal, a hot bath, and an extortion demand for an additional $6,000 from each of them.
A few hours later, the FBI woke the men from their slumber.
A member of the South Florida Joint Terrorism Task Force, who believed Mohan was responsible for smuggling about 1,700 people, had been recording Mohan's telephone calls, according to a criminal complaint filed by Anthony Montgomery, a special agent for the FBI.
Montgomery needed witnesses, and three of the men said he came to their jail several times to try to persuade them to identify the smuggler and testify against him.
"He used to come to the jail every day. We all said, 'No, no, no,'" the fisherman said in a telephone interview from the Baker County jail in northern Florida, where he is being held. "Then he gave me a promise that he would take us out of jail and bring my family."
The fisherman said he gave the agent his relatives' names, expecting that they would be able to join him in Florida.
Four of the men agreed to identify the smuggler from an array of photographs, and the fisherman gave a deposition. The migrants were brought to federal court in shackles and held in the same holding pen as the man they had just implicated.
"He started to shout at us: 'You people showed us to the FBI! When I come out you will see what I can do! You people are idiots!'" the fisherman said, adding that his family in Sri Lanka received calls from Mohan demanding $10,000 in smuggling debt.
Mohan, a Canadian resident whose real name is Sri Kajamukam Chelliah, pleaded guilty to knowingly encouraging and inducing immigrants to enter the United States illegally, and was sentenced to five years in prison.
The Sri Lankan detainees never heard from the FBI again.
"He didn't say 'release,' but he said: 'You help, I help,'" said another detainee, a 25-year-old former taxi driver whose initial is B. and who is also being held at Krome. "I told them about my smuggler. I told them everything. I was scared."
But the detainees' lawyers said that, without a cooperation agreement on paper, the men received no help or lenience in return from immigration officials.
Michael Leverock, a spokesman for the FBI in Miami, said that four of the five men voluntarily gave interviews and admitted they were complicit in illegally entering the country.
"At no time were they promised any immigration benefits by the FBI," he said.
The U.S. attorney's office in Miami did not respond to repeated requests for information.
When undocumented immigrants are victims of a crime, law enforcement agencies can help them get a special visa. In this instance, the men were viewed as participants in a crime and ineligible for such help.
Several experts said the cases are surprising for the particularly tough stance Immigration and Customs Enforcement took against people who risked their safety to help the government; such cooperation is often crucial in convicting smugglers. Even though appeals prolonged their cases, the agency had the discretion to take the detainees' cooperation into account and release them with electronic monitors on their ankles, said several veteran immigration specialists who are not involved in the cases.
"ICE exercises discretion in huge numbers of cases," said Diego Ferreyra, a former prosecutor for the agency who left in September to start a law practice in Virginia. "Most often those benefiting from discretion and release have not provided the type and level of assistance to law enforcement that these men had."
Immigration and Customs Enforcement said that even though the men were not a danger to the community, they were held without bond because they had no fixed address in the U.S. and were deemed flight risks. It was unclear why they were not released on electronic monitoring, an agency official said.
"They each did ask for bond, and the immigration judge declined to change their custody status," the official said. "There is a process, and they availed themselves of it."
The men applied for political asylum, each with a personal story of the persecution they suffered as Tamils.
Had their cases been heard one county south, said Ferreyra, the former federal prosecutor, their asylum claims would more likely have been accepted.
Instead, the claims were heard by Judge Rex J. Ford, at the Executive Office for Immigration Review, the Justice Department agency in charge of immigration courts. A 2012 analysis by Syracuse University showed that Ford denied 93.4 percent of the asylum claims he decided, making him the fifth-strictest immigration judge in the nation. The study found that no other judge issued more stipulated deportations, in which the defendant waives the right to see a judge.
In 2009, Ford admonished a mentally ill Chinese woman for answering questions before the interpreter had finished translating them, telling her that if she did so again, he would rule as though she had failed to show up in court. She repeated the mistake, so he ordered her deported.
Ford found that the stories by the Sri Lankan men were not credible and ordered them deported as well. The judge said he could not comment on their cases.
Lauren Alder Reid, a spokeswoman for the Executive Office for Immigration Review, said that the rankings of denial rates can be misleading because dispositions depend on many factors besides the judge.
The defence lawyers noted a 2012 report by Human Rights Watch, which documented the arrests and torture of Tamils who were deported to Sri Lanka. Several European countries have revised their policies on deportations to Sri Lanka after the rights group showed that the government had arrested or tortured deportees with even the most tenuous connection to the Liberation Tigers of Tamil Eelam.
An appellate court agreed that the cases deserved a second look and sent them back to Ford. He denied one case and closed the others because the men, by then exasperated, wrote him letters begging to go home.
"My heart is broken," R. said. "That's why I signed the paper, because even if I die at home, at least I can see my mother."
Gillian Christensen, a spokeswoman for Immigration and Customs Enforcement, said various procedural issues, including appeals and a court stay on the deportation orders, have prolonged the men's detentions. At one point, she said, the men were ready to go, but two of them refused to board the plane, and the flight was cancelled. Their travel documents expired, and the government has yet to get new ones.
"This just all shows how irrational and unjust the correctional immigration system is," said Judy Rabinovitz, a lawyer for the men and the deputy director of the ACLU's immigrant rights project. "How much have U.S. taxpayers paid to keep these people locked up?"
The men are torn between their lawyers' insistence on fighting for asylum and their desire to go home, even if to a dangerous and uncertain future.
"When I left home, I left with one problem," the fisherman said. "Now I am being deported, and I am taking two or three problems with me. They might arrest me at the airport, and if they don't, I will be free and have problems with the smugglers. At least if they put me in jail in Sri Lanka, it won't be for this long."
© 2014, The New York Times News Service