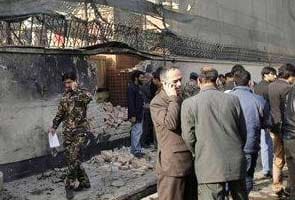 Kabul:
Suicide attackers detonated bombs and fired rockets outside a major US base in Afghanistan on Sunday and police said 12 bodies were found near a gate, highlighting the country's security challenges ahead of the 2014 North Atlantic Treaty Organistation (NATO) combat troop pullout.
Local police officials said a dozen bodies in Afghan police and military uniforms were scattered around the entrance of the airfield in the eastern city of Jalalabad. A Taliban spokesman said the militant group had launched the 6 am assault.
It was not clear whether the dead were Afghan security forces or militants dressed in uniforms, a tactic the Taliban sometimes deploy during attacks.
"There were multiple suicide bombers involved," said Major Martyn Crighton, a spokesman for the NATO-led International Security Assistance Force (ISAF).
One member of the Afghan security forces was killed and several coalition troops were wounded, he said.
The United States and Afghan government are scrambling to stabilise Afghanistan before most NATO combat troops withdraw at the end of 2014 and hand over security to Afghan forces.
Afghanistan's defence ministry spokesman said there were rocket attacks at the base followed by two suicide bombings. He had no information on casualties.
In a text message, Taliban spokesman Zabihullah Mujahid said, "This morning at 6 am a number of our devotees attacked the major U.S. Base in Jalalabad city and so far have brought heavy casualties to the enemy."
In February, a suicide car bomber killed nine people at the base, almost exclusively used by NATO and the US military.
© Thomson Reuters 2012