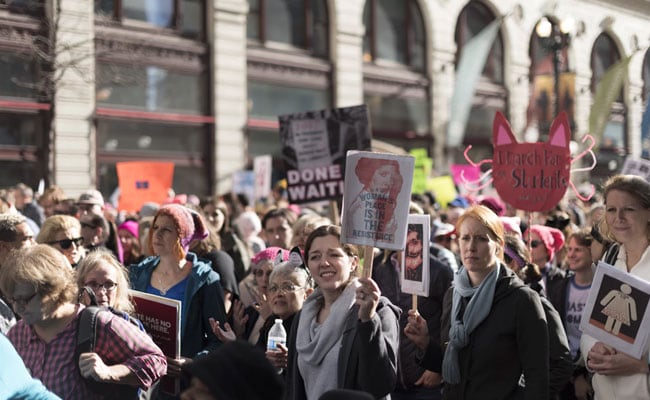 Stockholm, Sweden:
Sweden released a handbook of its "feminist foreign policy" Thursday for rights groups and foreign governments, showcasing lessons from the Scandinavian nation's flagship approach to promoting women's rights globally.
The manual, published on the government's website in English weeks before a September 9 general election, is derived from four years of work to place gender equality at the heart of the country's international agenda.
Sweden began its feminist foreign policy "in response to the discrimination and systematic subordination that still mark the daily lives of countless women and girls around the world", the handbook said.
It added that while gender equality was "an object in itself", it was "essential" in achieving more general government objectives, like peace, security and sustainable development.
Led since its inception in 2014 by Foreign Minister Margot Wallstrom, its goals include the promotion of economic emancipation, fighting sexual violence and improving women's political participation.
"We were met with mixed reactions including a bunch of giggling in the first days and outspoken resistance," Wallstrom told a news conference in Stockholm.
"We've constantly heard 'these are just pretty words', so this is why (the handbook) is important," the Social Democrat minister added.

'Gained respect'

Projects cited in the manual include an action plan for five war-torn and post-conflict nations -- Afghanistan, Colombia, Democratic Republic of Congo, Liberia and the Palestinian Territories -- building in targets for women's rights and empowerment for the first time.
The handbook highlighted Sweden's work in Congo to promote "positive masculinity" in the country, where it is has run initiatives such as promoting social media debate on men's role in society.
But according to Robert Egnell, a professor at the Swedish Defence University, said it's "too early" to draw any conclusions about whether the feminist approach leads to significant change.
"It is impossible to say if this policy has reduced the number of women dying in childbirth in Africa or benefitted other populations," he told AFP.
But he said it had garnered widespread attention, adding "everyone now knows it's a Swedish foreign policy".
Wallstrom said the strategy has not faced any "backlashes" but rather inspired other countries such as Canada and France to follow suit.
"We've gained respect for these policies and now we have both good examples and a handbook on how to do it," she told AFP in an interview.
"There are so many countries with so much more to do," Wallstrom said, insisting that while the policy is in its early days, it has shown signs of success.
'Long way to go'

But critics say a feminist strategy cannot escape the constraints of global politics.
While Sweden defines itself as a "humanitarian superpower", it is also a major exporter of fighter jets and missile batteries.
The Nordic nation didn't vote no -- it abstained -- when Saudi Arabia was elected into the UN women's rights commission last year.
Stockholm's diplomatic ties with Riyadh were briefly frozen in 2015 after Wallstrom called Saudi Arabia a "dictatorship", an unusually strident term from a Western diplomat dealing with the oil-rich state.
Saudi Arabia recalled its ambassador to Stockholm, but the row was quickly solved after a visit by a Swedish government envoy to Riyadh.
"When these criticisms come from a woman, they have another symbolic significance and arouse strong aftershocks," Egnell said.
Wallstrom said naming Sweden's foreign policy "feminist" had been "a bit provocative".
"In some countries, using the term feminist has a negative connotation, but I think we've been able to demonstrate that this is what it means -- that women and men should enjoy the same rights and the same duties and the same opportunities in society," she said.
Wallstrom last year joined the #MeToo campaign and said she had experienced sexual harassment "at the highest level of politics".
The growing influence of women in Sweden's own foreign service is encapsulated by a graphic showing the rapid increase in women in the post of ambassador for the country, from just 10 percent in 1996 to 40 percent in 2016.
"But we have a long way to go," Wallstrom said.
(This story has not been edited by NDTV staff and is auto-generated from a syndicated feed.)