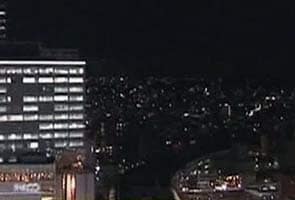 Tokyo:
A strong earthquake centred off the coast of northeastern Japan shook buildings as far as Tokyo and led to a tsunami warning for coastal areas of the northeast, public broadcaster NHK said on Friday.
(First pictures)
The earthquake had a preliminary magnitude of 7.3, the U.S. Geological Survey said, adding that there was no risk of a widespread tsunami. That was revised from an earlier estimate of 7.4.
(Buzz on Twitter)
A warning for a one-metre tsunami was issued for the coast of Miyagi Prefecture in northeastern Japan, which was hit by a devastating earthquake and tsunami in March 2011.
That quake triggered fuel-rod meltdowns at the Fukushima nuclear plant, causing radiation leakage, contamination of food and water and mass evacuations in the world's worst nuclear crisis since Chernobyl in 1986.
The government declared in December that the disaster was under control, but much of the area is still free of population.
Tokyo Electric Power Company, the operator of the Fukushima nuclear plant, reported no irregularities at its nuclear plants after the latest quake.
Prime Minister Yoshihiko Noda cancelled campaigning in Tokyo ahead of a December 16 election and was on his way back to his office, but there was no immediate plan to hold a special cabinet meeting.
Public spending on quake-proofing buildings is a big election issue.
Japanese were posting photos of their TV screens with tsunami warnings on Facebook, asking each other whether they're safe, confirming their whereabouts.
"It shook for a long time here in Tokyo, are you guys all all right?" posted Eriko Hamada, enquiring about the safety of her friends.
Phone lines were overloaded and it was difficult to contact residents of Miyagi."Owing to the recent earthquake, phone lines are very busy, please try again later," the phone operator said.
The yen rose against the dollar and the euro on the news, triggering some safe-haven inflows into the Japanese currency.
© Thomson Reuters 2012