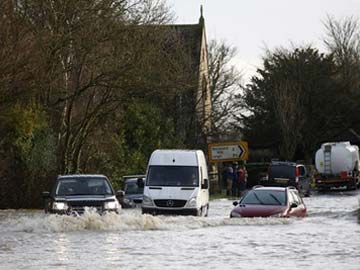 London:
Some 50,000 homes in Britain were without power on Christmas Day following recent storms, while hundreds of people were evacuated on Wednesday due to flooding.
Meanwhile London Gatwick Airport was struggling with power outages in parts of its North Terminal, causing delays to departing flights.
High winds and heavy rain battered parts of Europe on Monday and Tuesday, with some areas still reeling from the aftermath.
The Energy Networks Association said around 50,000 homes remained without electricity. They are largely in the east and southeast of England.
"It's likely that some people will still be off on Boxing Day (Thursday)," said spokesman Tim Field.
Power company UK Power Networks offered to pay for Christmas dinners in local pubs or restaurants for people whose supplies remain cut off.
Around 90 people were evacuated from 3:00am from their homes by the River Stour near Bournemouth on the south coast due to floods, emergency services said.
In southeast England, evacuations took place in the London commuter belt towns of Dorking, Leatherhead, Guildford, Godalming and Tonbridge, emergency services added.
Meanwhile the coastguard rescued people from a caravan park in Yalding, after chest-deep river waters cut the site off.
All together, hundreds of people were evacuated, emergency services added.
London Gatwick, Britain's second-busiest airport, was running a full schedule following cancellations in the run-up to Christmas.
However, "there are still power outages in parts of our North Terminal," it said, due to the weather.
"These are causing delays to departing flights and our engineers are on site rectifying this."
All departures were operating from the South Terminal, except for British Airways flights.