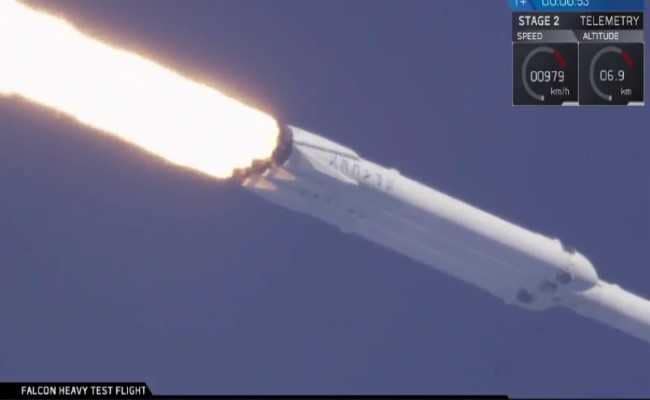 SpaceX monster rocket, the Falcon Heavy, was launched today from the Kennedy Space Centre in Florida. The highly anticipated test flight was delayed due to "upper level wind shear," SpaceX mentioned on its Twitter handle.
Loaded with Musk's own red Tesla roadster, a mannequin in a spacesuit, and a playlist consisting of David Bowie's "Space Oddity," the monster rocket's maiden voyage has captured the world's imagination.
Musk himself has put the odds of success or failure at no better than 50-50. "It is guaranteed to be exciting, one way or another," the quirky 46-year-old South African-born space visionary and wealthy businessman told reporters on the eve of the launch, news agency AFP reported.
Here are the highlights of the Falcon Heavy test launch:
When Falcon Heavy lifts off, it will be the most powerful operational rocket in the world by a factor of two, with the ability to lift into orbit nearly 64 metric tons (141,000 lb) - a mass greater than a 737 jetliner loaded with passengers, crew, luggage and fuel, according to SpaceX's official website.
"Falcon Heavy's first stage is composed of three Falcon 9 nine-engine cores whose 27 Merlin engines together generate more than 5 million pounds of thrust at liftoff, equal to approximately eighteen 747 aircraft. Only the Saturn V moon rocket, last flown in 1973, delivered more payload to orbit," the website further mentions.