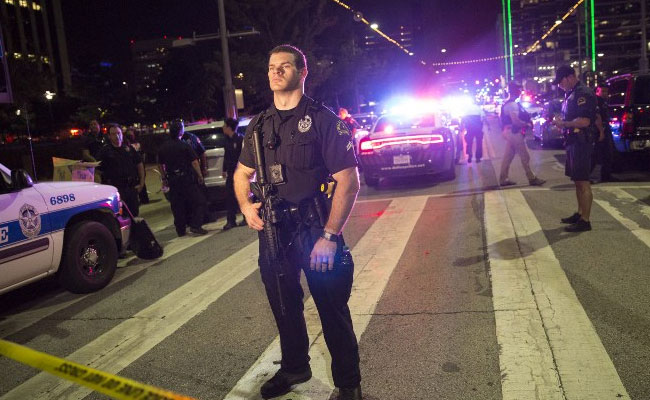 Dallas, United States:
At least four Dallas law enforcement officers were killed and seven wounded Thursday evening as a protest over recent police shootings itself became a crime scene. One civilian was also injured.
What had been a peaceful protest exploded into violence around 9 p.m. local time when gunshots echoed over downtown. Dallas Police Chief David Brown attributed the violence to "snipers" perched atop "elevated positions."
The dead included three Dallas Police officers and one Dallas Area Rapid Transit officer, authorities said.
Shortly before midnight, police announced that they had two men in custody, one of whom they said had engaged SWAT officers in a shootout.
Police were also investigating a suspicious package left near the site of the shootings.
"We also believe that these suspects have threatened to plant a bomb in the downtown area," Brown said during a news conference before the arrests.
These shots rang out just as a protest over the recent fatal police shootings of Alton Sterling in Baton Rouge, Louisiana, and Philando Castile in St. Paul, Minnesota, was ending. The protesters were marching from the Belo Garden Park to the Old Red Courthouse.
It is unknown at this time if there is a connection between the shots and the protest.
More than 800 people had attended the protest. Video showed scenes of people fleeing through the streets as shots echoed off skyscrapers.
"It was real crazy," one witness told Fox News. "You didn't know whether you should duck, hide or run."
Another witness said he saw a body lying on the ground.
Renee Sifflet, a mother of three teenagers who attended the rally and march, said she lost track of one of her children during the ensuing chaos.
"I brought them here for a positive experience, something they could say they were part of when they're older, " she told the Dallas Morning News. "Then it turned negative."
© 2016 The Washington Post
(This story has not been edited by NDTV staff and is auto-generated from a syndicated feed.)