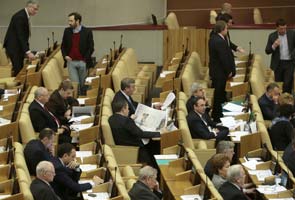 Moscow:
Sick or handicapped children will be the biggest losers in a Russian law banning adoption of Russian children by American families, adoption agencies have warned.
Agencies working in Russia said that while Russian parents were increasingly adopting children it was American families who were prepared for the challenge of adopting sick orphans.
The law also risks having tragic consequences for dozens of children in Russia whose cases have gone through the legal process and are waiting to be taken to the United States by new parents who they already know, they warned.
President Vladimir Putin on Friday signed into law the legislation, which was passed earlier this month by parliament despite protests not just from activists but even ministers.
While more Russian parents have been taking children for adoption in the last years "it is true that the sick children are adopted by Americans," said Andrei Metelsky, local representative of the Wide Horizons for Children child welfare and adoption agency.
"This means that all the sick children have lost - this is the main thing that has been lost from this law."
Galina Sigayeva of the New Hope Christian Services, a US adoption agency, said her Saint Petersburg chapter had four children up for adoption, with two of them already going through the courts.
The children include two brothers aged five and six -- one of whom is handicapped.
"They are living in a correctional orphanage and after that what awaits them is a boarding school for slow learners. It is painful to think about," she said.
"I don't remember there being healthy children among our adoptions," Sigayeva said, pointing out that most abandoned children came from parents who were drug addicts, alcoholics, or syphilis sufferers.
"I am sure that they would not find adoptive families in Russia -- these are very difficult children. It is very hard to bring them up in our way of life.
"This does not look like concern for children. It's shameful that children have become a card in a political game."
-- 'We are working with live people' --
An employee of American agency Childrens Home Society and Services, who asked not to be named, said a major concern was children who were ready to leave for the United States but now could not go.
"We now have three children in the process of adoption, two of them are handicapped - one with Down's Syndrome aged five and one with HIV aged four," the employee said.
"These children are no longer so small, they understand that future parents are coming for them, they are waiting for them and the families have already visited them.
"For us this decision is painful. We are working with live people. It is a shock."
According to Pavel Astakhov, the Kremlin's envoy on children's rights and a strong supporter of the law, 52 children who have been prepared for adoption by American families will have to stay in Russia for adoption by Russians.
The law was adopted as part of retaliation for measures agreed in the United States to punish Russian officials implicated in the prison death of lawyer Sergei Magnitsky in 2009.
A tit-for-tat response by Russia had long been expected but the wholescale ban on adoptions by Americans has taken the controversy to a new level.
Putin argued on Thursday that adoptions were bad for Russia as there was no reason to let children leave the country just because the quality of life was better elsewhere.
Putin's advisory human rights council complained in a report earlier this month that the law would affect blameless orphans and US citizens who wanted to adopt them.
"The adoptive parents are not guilty of anything and the orphans themselves have of course done nothing wrong," Mikhail Fedotov, the head of the Kremlin human rights council said.
The legislation was dubbed by the pro-Kremlin press as the Dima Yakovlev law, referring to a Russian boy adopted in the United States who died after being locked in a hot car by his adoptive US father in 2008.
"Dima Yakovlev is the name of the child whose life was ended by an American father in 2008. Now the Kremlin is using the name of the child for the name of a law that will end the lives of many Russian orphans," said the daily Vedomosti.