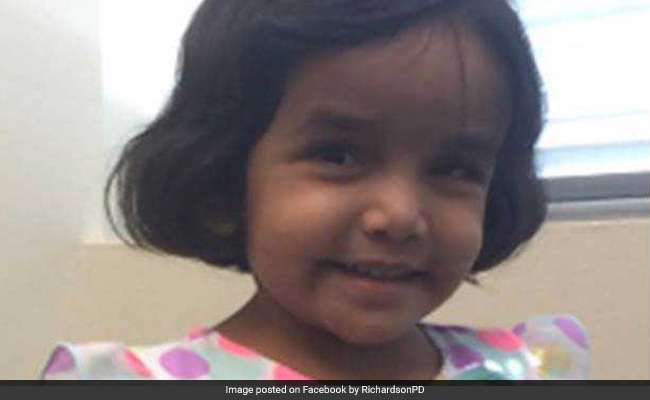 Houston:
A family court judge in Dallas has ruled that the 4-year-old sister of Sherin Mathews, the Indian toddler found dead in a culvert in Texas last month, will soon leave foster care to live with extended family, according to media reports.
US Child Protective Services officials removed the girl from her home after Sherin, 3, was reported missing on October 7 by her Indian-American adoptive father Wesley Mathews.
Child Protective Services (CPS) spokeswoman Marissa Gonzales said the toddler, who has not been named, may leave the foster care to live with the extended family. This change could happen at any time, the Dallas Morning News reported.
It was not publicly clear yesterday which relatives would have the custody of the child or what kind of visitation the girl's biological mother, Sini Mathews, would have with her, the report said.
Ms Sini, a registered nurse, has been able to visit her daughter in foster care once a week, ABC-affiliate WFAA-TV reported.
The CPS had been looking for a relative to place the child.
Mr Wesley, who has since been charged in connection with Sherin's death, remains in the Dallas County Jail on a charge of injury to a child. Bail has been set at $1 million. The crime is punishable with up to 99 years in prison.
The 37-year-old, from Kerala, did not attend yesterday's hearing, but his attorney, David Kleckner, did.
Mr Wesley had initially said that he sent Sherin outside to an alley near their house about 3 am local time because she refused to drink her milk.
He later changed his story and to say he "physically assisted" Sherin with her milk, and admitted to removing her body from the home after she choked and stopped breathing, according to an arrest warrant affidavit.
The cause of death is still pending for Sherin, who was missing for two weeks before her body was found on October 22 from a culvert by a cadaver dog during a massive search near her home in Richardson city.
Some of the proceedings of the custody hearing were delayed yesterday because of "aggravated circumstances" in the case, which was widely reported in the international media.
The Dallas court did not address what those "aggravated circumstances" were, and the attorneys for Sherin's mother declined to comment about the reasons for the delay, the report said.
The custody hearing has now been reset for November 29.
In the family court, a judge can "waive requirement of a service plan and the requirement to make reasonable efforts to return the child to a parent," according to the Texas Family Code "if the court finds that the parent has subjected the child to aggravated circumstances."
The family code includes injury to a child as an aggravated circumstance, the report said.
Sherin's adoptive father, Mr Wesley, has been charged with causing serious bodily injury to a child. However, Ms Sini, Sherin's adoptive mother, has not been charged with a crime.
Ms Sini, surrounded by her attorneys, reporters and cameras at the Henry Wade Juvenile Justice Center in downtown Dallas, did not comment after leaving the court yesterday.
Mr Kleckner, who represents Mr Wesley only in the child custody proceedings, said that his client wants his wife or their family to have custody of their surviving daughter.
Mr Kleckner said outside the courtroom that Wesley wants to make it clear "he loves his children and his wife and he's a good family man."
Mr Wesley and Ms Sini first appeared in court on October 23 to try to regain custody of the biological daughter who was taken into the CPS custody after Sherin was reported missing.
Judge Cheryl Shannon first pushed the custody hearing back to November 19 while Wesley looked for a civil attorney.
Sherin's death prompted External Affairs Minister Sushma Swaraj to ask the Indian Embassy in the US to be actively involved in the case and keep her informed. She also sought a probe into the adoption process of Sherin, who was adopted by the Indian-American couple last year from an NGO in Bihar.
Following Sherin's case, India decided that passports to adopted children will be issued only with prior clearance by the Ministry of Women and Child Development.