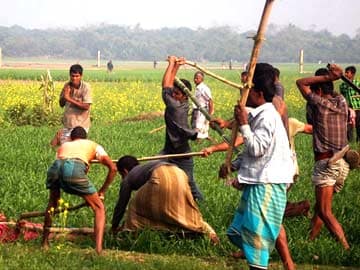 Dhaka:
Seven activists of the opposition BNP and Jamaat-e-Islami were arrested for attacks on Bangladesh's minority Hindu community even as Prime Minister Sheikh Hasina today promised stern action against the perpetrators.
Two Jamaat activists were arrested yesterday while five Bangladesh Nationalist Party supporters were arrested today for attacks on Hindus in Jessore and Dinajpur.
A senior police office in Dinajpur said they were arrested after victims named those responsible for the attacks.
The Hindus were targeted after members of the community voted in defiance of the opposition's call to boycott Sunday's controversial general elections that were swept by Hasina's Awami League party.
The worst attacks were reported from western Jessore on election day, when suspected opposition activists vandalised 130 Hindu homes and torched another 10 in Malopara village.
Police said 70 to 80 men attacked Malopara. Opposition activists threatened Hindus with dire consequences for voting,prompting the army's intervention.
According to media reports, Hindus were also attacked in Lalmonirhat, Gaibandha and Thakurgaon in the same region.
Hasina condemned the attacks and told a meeting of her victorious Awami League-led alliance: "Everyone responsible for the attacks on the minority community will face stern punishment. I have never compromised with terrorism."
She said the paramilitary Border Guard Bangladesh, anti-crime Rapid Action Battalion and police have launched a massive campaign to track down those responsible for attacks.
Hasina accused the BNP and the fundamentalist Jamaat-e-Islami of intimidating Hindus on the grounds that they are perceived as traditional supporters of her Awami League.
"The attack on the minority community indicates that the character of BNP and Jamaat-e-Islami remains unchanged," she said.