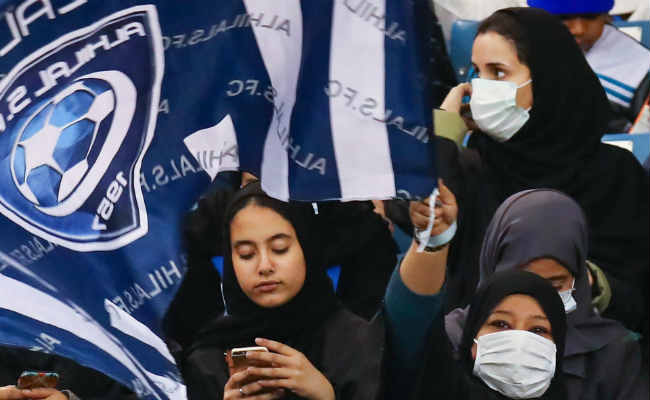 Paris:
Despite enjoying some newfound freedoms such as the right to attend a football match, Saudi women, particularly rights activists, continue to be silenced, two rights groups said Wednesday.
The Paris-based International Federation for Human Rights (FIDH) and the World Organisation against Torture (OMCT) said the "scandalous" treatment of women activists in the Islamic kingdom raised questions about the monarchy's "genuine willingness" to modernise.
"On the one hand, since 2016, there have been momentous announcements on the societal reforms to come; on the other, since 2011, there has been an ongoing and unprecedented wave of repression directed against human rights defenders," they said in a joint report released in the French capital.
Last week, Saudi Arabia allowed women to enter a football stadium for the first time to watch a game. The move came four months after King Salman announced an end to a longstanding ban on women driving -- a major change to the country's ultraconservative social order.
The FIDH and OMCT said that largely "symbolic" move had detracted attention from the plight of women activists.
"Although in recent years the government has given indications of more openness, especially since the arrival of a 'new generation' of leaders represented by Crown Prince Mohammas Bin Salman, women are still exposed to a double vulnerability," they said.
Like all women they are still subject to a guardianship system, meaning they have to obtain permission from a male family member to study, travel and engage in a host of other activities.
And as activists, the report added, they risk being jailed under terrorism, religious and other laws used to detain dozens of rights campaigners, bloggers and lawyers.
Under new counterterrorism legislation, those who defame or insult the king or crown prince risk up to 10 years' imprisonment.
'Most activists silenced'
Addressing a Paris press conference by Skype, US-based Saudi activist Hala Al-Dosari, a researcher at Harvard University's Radcliffe Institute for Advanced Study, said the modernising image the Saudi crown prince was trying to project abroad contrasted with the repressive climate at home.
"Most of the (female) activists have been silenced," she said.
The report profiled seven women, including 28-year-old Loujain Al-Hathloul, who spent 73 days in jail in 2014-15 for driving a car, and Maryam al-Otaibi who spent more than 100 days behind bars last year for leaving her male guardians.
Dozens of princes, ministers and businessmen were also arrested last year in a purge billed as a crackdown on corruption.
(Except for the headline, this story has not been edited by NDTV staff and is published from a syndicated feed.)