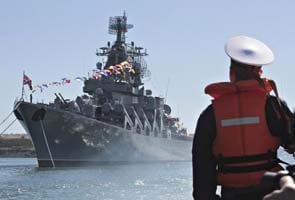 Moscow:
Russia is sending a reconnaissance ship to the eastern Mediterranean, Interfax news agency reported on Monday, as the United States prepares for a possible military strike in Syria.
US President Barack Obama has said he will seek congressional authorisation for punitive action against Syrian President Bashar al-Assad after what Washington said was a sarin gas attack that killed over 1,400 people. Russia is a staunch backer of Assad in his war with rebels trying to topple him.
The reconnaissance ship left Russia's naval base in the Ukrainian Black Sea port of Sevastopol late on Sunday on a mission "to gather current information in the area of the escalating conflict", the Interfax report quoted an unidentified military source as saying.
The Defence Ministry declined immediate comment but Interfax said the vessel, the SSV-201 Priazovye, would operate separately from a Russian navy unit already stationed in the Mediterranean.
Last week, the ministry said new warships were being sent to the Mediterranean but described this as a routine rotation of ships under a permanent deployment which Moscow says is needed to protect national security interests.
Foreign Minister Sergei Lavrov also said at the time that Moscow did not intend to be dragged into any military conflict over Syria.
Russia reiterated on Monday that the United States had not proved its allegations and that the chemical attack may have been staged by Syrian rebels to provoke outside intervention in the more than two-year-old civil war.
Lavrov said Russia remained unconvinced following a meeting between Michael McFaul, the US ambassador to Moscow, and a senior Russian diplomat.
The material the United States has shown Russia "contained nothing concrete: no geographical coordinates, no names, no proof that samples were taken in a professional manner", Lavrov told students and staff at Russia's main diplomatic academy.
"What our American colleagues and the British and French showed us earlier and recently absolutely does not convince us," Lavrov said, according to state-run news agency RIA.
Echoing comments by Putin at the weekend, Lavrov said: "There are no facts there ... and when we ask for more detailed proof. They say, 'You know, it's all secret, so we cannot show it'. That means there are no such facts."
Russia is one of Assad's biggest arms suppliers and has a naval maintenance facility in the Syrian port of Tartous. Moscow opposes any military intervention in Syria and has shielded Damascus from pressure at the UN Security Council.
Lavrov defended decisions by Russia and China to block three Western-backed UN Security Council resolutions to press Assad to end the bloodshed, saying Moscow and Beijing "act on principle on all issues, including the Syrian crisis".
Russia and China "oppose attempts to return to the language of ultimatums," he said.
© Thomson Reuters 2013