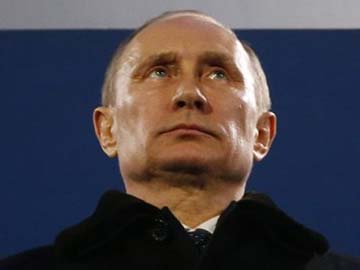 Moscow:
Russia has taken another major step toward restricting its once freewheeling Internet, as President Vladimir Putin quietly signed a new law requiring popular online voices to register with the government, a measure that lawyers, Internet pioneers and political activists said Tuesday would give the government a much wider ability to track who said what online.
Putin's action Monday, just weeks after he disparaged the Internet as "a special CIA project," borrowed a page from the restrictive Internet playbooks of many governments around the world that have been steadily smothering online freedoms they once tolerated.
The idea that the Internet was at best controlled anarchy and beyond any one nation's control is fading globally amid determined attempts by more and more governments to tame the Web. If innovations like Twitter were hailed as recently as the Arab uprisings as the new public square, governments like those in China, Pakistan, Turkey, Iran and now Russia are making it clear that they can deploy their tanks on virtual squares, too.
China, long a pioneer in using sophisticated technology to filter the Internet, has continually tightened censorship. It has banned all major Western online social media sites, including Facebook, Twitter, YouTube and Google, though it seems not to be bothered by Alibaba, its homegrown e-commerce site, which has filed the paperwork for what could be the biggest public stock offering ever.
Nevertheless, even Beijing's own social media champion, Weibo, valued at $3.6 billion in a public stock offering this year, has come under mounting censorship pressure as the government fine-tunes its policing of expression.
Under the pressure of a corruption scandal, Turkey recently imposed bans on Twitter and YouTube over tapes alleging corruption by the country's prime minister, Recep Tayyip Erdogan. While the YouTube ban remains, Twitter service was restored in April only after the Constitutional Court overturned the ban.
During protests against the government in Venezuela in February, there were reports that the government there was blocking online images from users. In recent years, Pakistan has banned 20,000 to 40,000 websites, including YouTube, saying they offend Muslims. Facebook was blocked for a while in 2010 but is now accessible.
The level of challenge is rising, but "we also see the amount of resources going into censorship increasing greatly," Jonathan Zittrain, a professor at Harvard Law School who specializes in Internet law, said in a telephone interview.
Widely known as the "Bloggers Law," the new Russian measure specifies that any site with more than 3,000 visitors daily will be considered a media outlet akin to a newspaper and be responsible for the accuracy of the information published.
Besides registering, bloggers can no longer remain anonymous online, and organizations that provide platforms for their work such as search engines, social networks and other forums must maintain computer records on Russian soil of everything posted over the previous six months.
"This law will cut the number of critical voices and opposition voices on the Internet," said Galina Arapova, director of the Mass Media Defense Center and an expert on Russian media law. "The whole package seems quite restrictive and might affect harshly those who disseminate critical information about the state, about authorities, about public figures."
Putin has already used the pliable Russian Parliament to pass laws that scattered the opposition, hobbled nongovernmental organizations and shut down public protests. Now, riding a wave of popular support after hosting the Winter Olympics and annexing Crimea, he has turned his attention to regulating the Internet, as well as burnishing his credentials as the worldwide champion of conservative values.
Aside from the Internet law signed Monday, the Russian leader also signed a profanity law that levies heavy fines for using four common vulgarities in the arts, including literature, movies, plays and television.
Speaking in St. Petersburg in late April, Putin voiced his suspicions about the Internet, even while noting that it had become a public market of huge proportions.
"You know that it all began initially, when the Internet first appeared, as a special CIA project," he said in remarks broadcast live nationally, before adding that "special services are still at the center of things." He specifically thanked Edward J. Snowden, the former National Security Agency contractor granted asylum in Russia, for revealing to the world how efficient the NSA was at collecting information.
Putin went on to say that someone writing online whose opinion affects thousands or even hundreds of thousands of people should be considered a media outlet. He said he was not talking about a ban, only to act "the way it is done all over the world."
Russian Internet pioneers despaired that Putin was really talking about the Chinese model of curtailing any political discussion online.
"It is part of the general campaign to shut down the Internet in Russia," said Anton Nossik, an early online media figure here. "They have not been able to control it until now, and they think they should implement the Chinese model. But they don't understand how it works. The Chinese model also stimulates the development of local platforms, while the Russian laws are killing the local platform."
Russia is among a growing list of countries that have sought to shut down Internet voices circumventing a subservient national news media. Many leaders see the Internet as the key tool behind anti-government demonstrations and are determined to render it ineffective.
Yet polls conducted in 24 countries last spring by Pew Research found that most people were against government censorship of the Internet, including 63 percent in Russia and 58 percent in Turkey.
Another Russian Internet law that went into effect Feb. 1 gave the government the power to block websites, which it used immediately against its most vocal critics, like Alexei Navalny and Garry Kasparov, as well as online news sites that reported on demonstrations and other political activity.
In April, Pavel Durov, the 29-year-old founder of Vkontakte, Russia's popular version of Facebook, said he had fled the country because he feared the consequences of refusing to turn over information the government requested about activists in Russia and Ukraine. Critics said he had fled after cashing out, and United Capital Partners, the owners of a 48 percent stake in the company, posted a lengthy statement online saying he was trying to divert attention from legal issues surrounding his running of the company.
Alexander Zharov, who runs Roskomnadzor, the government agency that supervises the Internet, told the state-run RIA Novosti news agency last month that the law was necessary because people need to be held responsible for what they say on the web. "What he would never say face-to-face, he often allows himself online," Zharov was quoted as saying.
The lack of transparency in Russia creates a kind of fog around countless issues, and the Internet is no different. Many critics and even some supporters of the new law said it was too vague to understand.
The Internet needs to be regulated by law just like publishing, said Robert A. Shlegel, among the youngest members of Parliament from United Russia, Putin's party. But Internet savvy among legislators is weak, he added. "The law, as it is, is so raw," he said. "It is clear that the person who wrote it just doesn't understand."
The law does not specify how the government will count the 3,000 daily visitors, for example. Even before Putin signed it, two of the largest blogging platforms, Yandex and LiveJournal, announced that henceforth their publicly visible counters would stop below 3,000.
Arapova said that other murky issues included who would be considered a provider. For instance, will large international social media or search sites like Google, Twitter and Facebook have to keep their data in Russia or face fines and possible closing?
In California, both Twitter and Facebook said they were studying the law but would not comment further.
Arapova said the law would undoubtedly have a chilling effect in terms of who would go online. Whistle-blowers who work for corrupt government agencies, for example, would theoretically no longer be able to post anonymously.
The actual impact of the law will not be measurable until after it goes into effect Aug. 1, Arapova said. Punishments start at fines that can reach up to $142,000 or temporarily closing the blog, if the law is actively enforced.
Like the Internet law, the ban on four vulgar words was met with a combination of dismay and derision among artists. (The words, not mentioned in the law either, are crude terms for male and female genitalia, sex and a prostitute.) Many people thought it would be widely ignored, but the very idea that the Kremlin was trying to censor the arts rankled.
"We feel like we are back in kindergarten again when they said, 'Don't pee in your bed and don't eat with your hands and don't use that word,'" said Viktor V. Yerofeyev, a popular writer. "On the one hand the Russian government says the Russian people are the best. On the other hand, it doesn't trust the people."
© 2014, The New York Times News Service