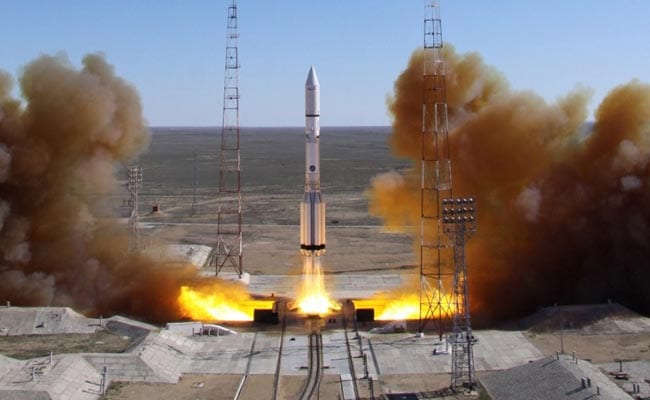 Moscow:
Russia on Sunday began investigating the loss of a commercial satellite and a separate glitch on the International Space Station, sparking fears over the industry's safety.
A commission to investigate the accident with the Proton-M rocket carrying a Mexican telecommunications satellite met Sunday morning, the TASS state news agency reported, citing a space industry source.
Russian Prime Minister Dmitry Medvedev had on Saturday demanded answers from space agency chief Igor Komarov and the names of those responsible, suggesting that heads could roll over the incident.
Last year, Russia sacked the head of Roscosmos over previous failures.
In the accident early Saturday, according to Roscosmos space agency, the engines of the third stage of the rocket taking the satellite into orbit malfunctioned.
The rocket's third and upper stages and the satellite fell back to Earth, burning up in the atmosphere.
Russian media including state-controlled outlets have reported on the failures frankly.
Initial reactions have focused on quality control in the relatively low-paid space industry sector.
"The best of the best do not go to work in the rocket and space sector. There is nothing to attract highly qualified specialists: the pay is low and it's not very prestigious to work there," Yury Karash of the Russian Academy of Comonautics said on Russkaya Sluzhba Novostei radio on Sunday.
The Izvestia daily reported that the rocket's engine was built in 2013 in the central Russian city of Voronezh.
The accident came just hours after a Progress spacecraft attached to the ISS failed to switch on its engines on command from mission control to move the station into a higher orbit in a planned manoeuvre.
A second attempt will be made at 3:30 am Monday (0030 GMT), a space industry source told the state news agency RIA Novosti.
The failures came after a major incident in which a Progress craft taking supplies to the ISS lost communications with Earth shortly after launch on a Soyuz rocket on April 28 and fell back to Earth.
That accident has delayed the return of three astronauts on the ISS and the departure of the next batch until June at the earliest as Russia works to identify the problem.
A commission is due to announce its findings on May 22.