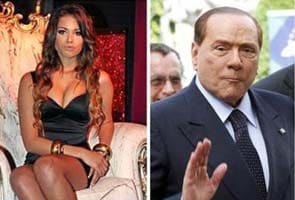 Rome:
The young Moroccan dancer at the heart of Silvio Berlusconi's sex trial was summoned by an Italian court on Friday to testify in May in a separate case of alleged procurement of sex workers.
Karima El Mahroug was called to testify on May 24 in a trial against three Berlusconi allies - starlet turned politician Nicole Minetti, newsreader Emilio Fede and talent scout Lele Mora - for allegedly procuring dozens of young women for torrid parties at the billionaire's house.
Twenty-year-old El Mahroug, nicknamed "Ruby the Heart Stealer", is at the heart of a trial against Berlusconi.
The three-time former prime minister, 76, is accused of paying to have sex with her when she was just 17 and abusing his office to cover up the offence.
El-Mahroug had been on the witness list for both Berlusconi's defence and the prosecution but failed to appear when called. The court has relied on her previous statements to the police.
Earlier this month, she held a solitary protest outside the courts in Milan, demanding to be heard just as the case heads for a verdict and saying she had been "manipulated" by prosecutors and the media.