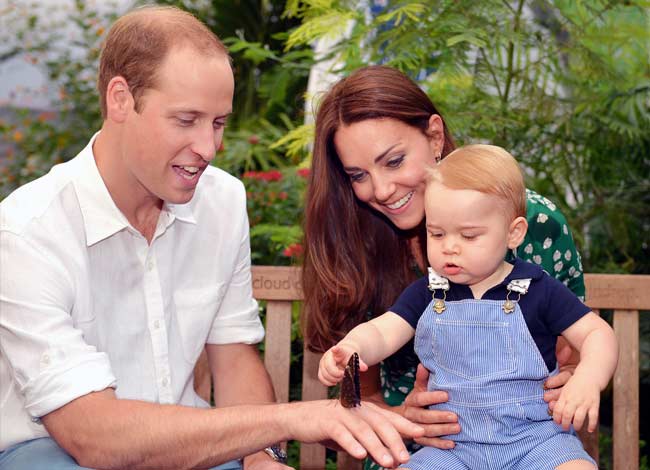 Prince William and his wife Kate have sent a legal warning letter to a photographer trying to take pictures of their son Prince George and his nanny, a spokesman said Thursday.
The spokesman for the Duke and Duchess of Cambridge said the photographer may have been carrying out "surveillance" of the prince's daily routines and said the toddler had to be "removed" from a central London park last week when the photographer in question got too close.
"The duke and duchess have taken legal steps to ask that an individual ceases harassing and following both Prince George and his nanny," the spokesman told AFP, explaining that lawyers had written a warning letter from the royal couple.
"The duke and duchess understand the particular public role that Prince George will one day inherit, but while he is young, he must be permitted to lead as ordinary a life as possible," the spokesman said.
"No parent would tolerate the suspicion of someone pursuing and harassing their child and carer whilst their child is playing in a public park or going about their daily activities," he added.
The London Evening Standard newspaper reported that a photographer had tried to take pictures of the one-year-old prince in Battersea Park.
It also said a photographer was told to move on by the police when he was seen waiting outside Buckingham Palace, where George is sometimes taken to swim in the palace pool.
George, third in line to the throne, is widely photographed when he is on official public engagements with his parents but not while being taken for a walk or playing with other children.
The royal family has had a tormented relationship with the British media, which reached its lowest point when William's mother Diana was killed in a crash in Paris in 1997 as her car was being pursued by photographers.
An informal agreement was struck between the royal family and the British media to ensure William and his younger brother Prince Harry were not pursued while they were growing up.
More recently, the publication of pictures of Kate sunbathing topless with William in France in 2012 caused a furore and the couple went to a French court to block further publication of the photos.