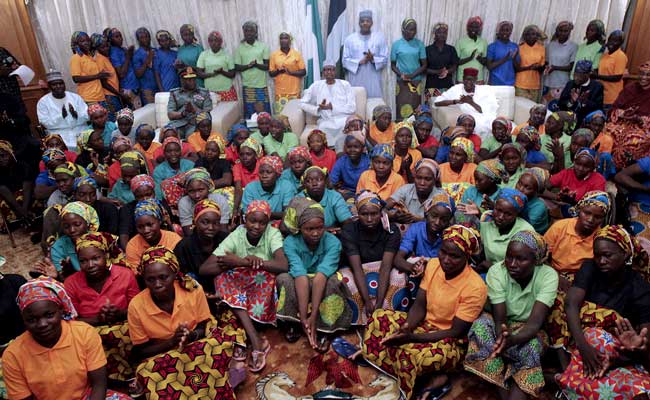 Abuja, Nigeria:
The rescued Chibok girls will not be going back to their rural home town to complete their schooling, Nigeria's minister for women said on Tuesday.
Speaking at a ceremony welcoming 82 newly rescued girls to a government rehabilitation facility in Abuja, Aisha Alhassan said all the girls will be heading back to class in September, without specifying where.
There are a total of 106 rescued Chibok girls that were kidnapped by Boko Haram terrorists in 2014 who are receiving medical and psycho-social treatment at the Women Affairs Centre, located on the outskirts of the capital.
"They are not going back to Chibok school but other schools within Nigeria," Alhassan said about the rescued girls.
"But if anyone wants to go back to their parents we will allow them to go, we are not keeping them here without their consent or that of their parents," Alhassan said.
"If anyone wants to go back today we can arrange for their parents to come and take her home but they are happy being here and learning what they are learning."
The 82 Chibok girls, who were released in early May, arrived to the ceremony in buses with their handlers looking relaxed and happy.
Once inside the facility, they started singing songs in Hausa, the dominant language in the country's north.
The Islamist militants seized 276 schoolgirls from the remote northeast Nigerian town of Chibok in April 2014, triggering global condemnation and drawing attention to the bloody Boko Haram insurgency.
Fifty-seven escaped in the immediate aftermath. Of the 219 who did not manage to flee, 106 have either been released or found, leaving 113 still missing.
In their quest to create a hardline Islamic state, Boko Haram, whose name roughly translated from Hausa means "Western education is sin", has waged a relentless assault on education in northeast Nigeria.
Along with attacks on schools, thousands of women and young girls have been abducted in the eight-year insurgency, which has left at least 20,000 people dead and displaced more than 2.6 million.