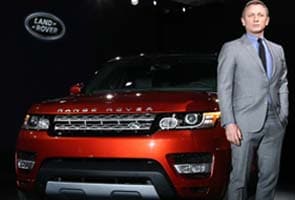 New York:
They're calling it the fastest, most responsive model ever from Land Rover. That's the new all new second generation of the Range Rover Sport from the British car maker, a part of India's Tata Group. Since the massive turnaround of JLR under Tata, Land Rover has launched three all new products and one significant refresh. The Evoque was the first and has been a runaway success, making 2012 a very successful year for the company with 36 per cent sales increases over the previous year.
In 2012, the company also launched the new generation Range Rover flagship SUV, and now comes the third member of the Range Rover family. The new Range Rover Sport uses the same platform as its older sibling, and also uses similar all-aluminum construction. But despite this the company says nearly 75 per cent of its components are not shared with the Range Rover. The new Sport aims to be a more agile, and sporty offering, with greater dynamics, and tauter handling than before. It is too premature to speak about prices, but given the positioning and feature list, the Range Rover Sport is likely to be very premium. The aluminum construction makes it significantly lighter, and therefore a lot greener than the outgoing car too.
JLR chose New York to launch the car - symbolic of the fact that the US has been the largest market for the Range Rover Sport. In fact, the NYC area also stands for the largest single metropolitan market for this model globally too. So it was a fitting debut location. JLR also cashed in on the recent association that it had with Skyfall - the most recent film in the James Bond franchise. And although this wasn't about Bond as much as it was about Daniel Craig in his individual capacity, Mr Bond was on hand to help unveil the car, as he drove through the streets of New York - with the city's police department shutting down traffic on some roads during rush hour. Craig arrived at the venue of the debut with much fanfare, as he drove on to the stage.
The new Range Rover Sport will compete with the likes of the Audi Q7, BMW X5, and Volkswagen Touareg. It is expected to be made available in India in the second half of this calendar year, and will likely be imported for starters.