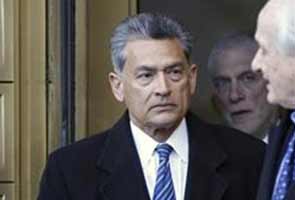 New York:
Today's sentencing of fallen Wall Street titan Rajat Gupta for insider trading could come down to whether a judge agrees that his lifetime of charity counts against sending him to prison.
The former Goldman Sachs Group Inc board member was convicted in June of leaking boardroom secrets to hedge fund manager Raj Rajaratnam, his friend and former business associate, at the height of the financial crisis.
Mr Gupta, 63, is to be sentenced by Manhattan U.S. District Judge Jed Rakoff, who oversaw the four-week trial. The former Goldman director, who also once ran the McKinsey & Co consulting firm and sat on the boards of Procter & Gamble Co and American Airlines, is the most influential corporate figure to be convicted in the recent crackdown on insider trading.
The Indian-born had moved in elite business and philanthropic circles for decades until he became ensnared in the Rajaratnam case.
Mr Gupta's lawyers have requested that he be spared prison, citing his work with groups such as the Bill & Melinda Gates Foundation on fighting disease in developing countries. Bill Gates, Microsoft Corp's co-founder, and former United Nations Secretary-General Kofi Annan are among the luminaries who have urged Judge Rakoff to be lenient.
As one alternative to prison, the defense proposed "a less orthodox" plan in which Mr Gupta would live and work with Rwandan government officials to help fight HIV/AIDS and malaria in rural districts, court papers said.
Federal prosecutors, however, argue that Mr Gupta should serve eight to 10 years in prison. Mr Gupta repeatedly flouted the law and abused his position as a corporate board member, they said.
Shakespearean Overtones
Legal experts say Judge Rakoff is unlikely to grant Mr Gupta's request to avoid prison. The leaks of sensitive information at the heart of his case involved serious breaches of trust, said JaneAnne Murray, a white-collar defense attorney and professor at the University of Minnesota Law School.
"Balanced against that will be the breadth of his philanthropy," she said. "These extremes give this sentencing Shakespearean overtones."
Judge Rakoff is considered by many defense attorneys to be less harsh in sentencing than some of his peers, but he has imposed significant prison terms in other insider-trading cases.
In 2011, for example, Judge Rakoff sentenced technology consultant Winifred Jiau to four years in prison on similar insider-trading charges. Another judge sentenced Mr Rajaratnam, who was convicted of securities fraud and conspiracy in May 2011, to 11 years.
Mr Gupta was found guilty of three counts of securities fraud and one count of conspiracy. The maximum sentence is 20 years for securities fraud and five years for conspiracy.
He was cleared of divulging P&G's quarterly earnings in January 2009. He was also found not guilty of illegally telling Mr Rajaratnam about Goldman's quarterly earnings after a March 12, 2007, board meeting.
Part of the prosecution's evidence was that within a minute of disconnecting from a September 2008 board call approving a $5 billion investment in Goldman by Warren Buffett's Berkshire Hathaway Inc, Mr Gupta called Mr Rajaratnam. Mr Rajaratnam then hurriedly ordered his traders to buy as much as $40 million in Goldman stock, prosecutors said.
© Thomson Reuters 2012