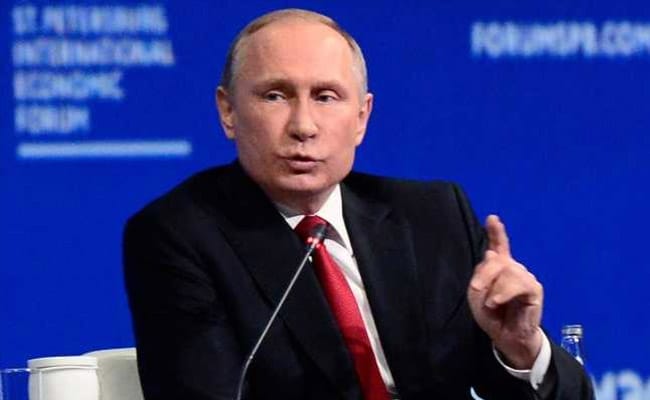 SOCHI, Russia:
Russian President Vladimir Putin, the presumed favorite to win a new six-year term next March, offered a message of renewal in a major address on Thursday. But he failed to deliver the news that Kremlin watchers have been waiting for: whether he will seek reelection.
Addressing a conference on international policy at a Russian resort, Putin said that today's leaders had a responsibility to make sure young people's lives "will be better, fairer, and safer."
"Our job is to make those dreams come true," Putin told the Valdai forum of international policy experts, set in a Sochi spa hotel perched among the white-tipped pyramids of the Caucasus Mountains.
Russia's next president should ensure that the country becomes an economically competitive, modern society with a strong defense, and the next Kremlin leader could be a woman, Putin said. "Everything here is possible."
But in a large portion of the speech and his responses to questions, Putin ticked off Russia's grievances against the United States. He asserted that Washington had failed to fulfill the terms of nuclear and chemical weapons treaties. He repeated his long-standing accusations that U.S. leaders have displayed double standards with their interventions in Iraq and the former Yugoslavia while slapping Moscow with sanctions over its annexation of Crimea. Instead of helping create a safer world after the Cold War, Putin said, the United States is "trying to return us to the 1950s."
Putin also noted the possibility that U.S. authorities might force the American branch of Russia's state-funded RT television channel to register as a foreign agent. Russian media have reported that the upper house of the Russian parliament had drawn up a blacklist of at least five American media outlets whose activities in Russia could be restricted in response.
"As soon as we see any efforts to limit our mass media we will have an immediate mirror response," Putin said.
Russian Kremlin watchers had expected Putin to announce his candidacy on Thursday, but Putin's spokesman, Dmitry Peskov told reporters in a conference call that the Russian leader planned to concentrate on his current term.
"Putin himself has not yet aired his intention to run and said there is still enough time before the election campaign," Peskov said.
Putin, who enjoys a seemingly unbeatable 80 percent approval rating, faces a conundrum as the leader who has run Russia for longer than anyone since Soviet dictator Joseph Stalin.
The Kremlin leader sees a fourth six-year term as the capping point on his legacy as a historical figure for Russia, the one who dragged the country from the ruins of the Soviet Union into modernity and prosperity. He has focused on establishing Russia's newly assertive place in the world order, leading its as-yet successful military campaign to prop up Syrian President Bashar al-Assad. He has offered Russia's support for established leaders in the Middle East and Europe as an alternative to what he calls American-sponsored regime change.
But Russian voters have shown signs of fatigue with the current system: Anti-corruption protests have twice brought out larger numbers of protesters across the country than at any time since Putin last's election victory in 2012.
Russia's rising voters are of particular concern. Young people in high school and college have flocked to protests inspired by anticorruption whistleblower Alexei Navalny, who has been disqualified from running by felony convictions that he says are politically motivated.
The Kremlin has been looking for ways to interest young people in loyal political movements. Putin himself is part of the problem, though, rather than the solution, according to political analyst Tatyana Stanovaya.
"After almost 18 years in power, he sees himself as more accountable to the judgment of history than to the needs of the people," Stanovaya wrote in a recent report for Carnegie Moscow Center. "This abstract approach to politics means that the will of the people (and the role of elections) are further diminished in Russia and are no longer the source of his legitimacy."
It has fallen to the Kremlin official in charge of domestic politics, Sergei Kiriyenko, to drum up interest in the vote. Earlier this year, Kiriyenko was believed to have been handed the task of topping Putin's best election result in 2004 - 49.5 million yes votes for 71 percent of the turnout. In 2012 Putin collected 45.6 million votes, or 64 percent of the turnout.
Andrei Kolesnikov, a senior associate at the Carnegie Moscow Center, suggested recently that anything more than 60 percent would be pushing the upper limits of Putin's real electoral rating, even though he rules unchallenged by a political system almost entirely subordinate to him.
The Kremlin was reportedly behind the announcement Wednesday by Ksenia Sobchak, a celebrity TV journalist and the daughter of Vladimir Putin's political mentor, that she would run for president. On Thursday, Putin's spokesman, Dmitry Peskov, denied that Sobchak's presidential campaign has been prepared in the Kremlin.
Candidates like Sobchak have no chance of upsetting Putin, but they offer voters a choice and give the election the look of a European-style democracy. Communist and ultranationalist candidates also are expected to win a small percent of the vote.
Kiriyenko has overseen another effort to give Russian polity a new face: Putin's recent replacement of 11 of the country's 85 governors with officials widely described as technocrats with few ties to the country's traditional regional elites, or its security services. A number of the new appointees graduated from a Kremlin program to produce effective officials. The RBC news site recently published a video of a training exercise that showed one of the new governors jumping into the sea from a 23-foot cliff along with other members of the program.
Putin's appearance in Sochi coincided with the World Festival of Youth and Students, which RBC described as a move in line with the Kremlin's increasing interest in communicating with the young generation.
"It is a group of people which the authorities want to be loyal, since it will have to vote in the future, probably, for the same old leader," the report said.
- - -
The Washington Post's Andrew Roth and Natalya Abbakumova contributed to this report from Moscow.(This story has not been edited by NDTV staff and is auto-generated from a syndicated feed.)