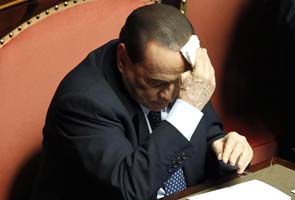 Rome:
Italian prosecutors on Thursday filed charges against former prime minister Silvio Berlusconi for allegedly bribing a left-wing senator 3.0 million euros ($3.9 million) to join his party.
The announcement from the prosecutor's office in Naples comes a day after a Milan court upheld Berlusconi's conviction in a separate case of tax fraud linked to his Mediaset business empire.
Prosecutors allege that the media baron paid off senator Sergio De Gregorio after parliamentary elections in 2006 won by a centre-left coalition led by Romano Prodi by just a handful of votes.
A few months later, De Gregorio crossed the aisle and joined the Berlusconi opposition in a move that helped bring down Prodi in 2008.
The subsequent elections were won handily by Berlusconi.
The investigation is based in Naples since that was De Gregorio's seat.
The scandal-tainted Berlusconi, 76, has been a defendant in multiple court cases in his two decades in politics and has two convictions.
He is also a defendant in a trial in which he is accused of paying for sex with an underage 17-year-old prostitute while he was prime minister and for abusing the powers of his office.