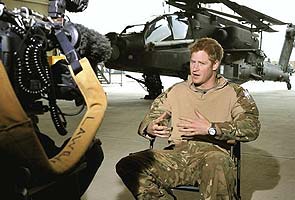 London:
Prince Harry may return to Afghanistan for another spell of duty after military chiefs decided to use Apache helicopters to provide "top cover" for British troops as they withdraw from the war-torn country.
The Prince had not expected to return to the front line after spending four months in Afghanistan earlier this year.
However, 'The Sunday Times' quoting defence sources said plans for Harry's unit, the Army Air Corps' 3 Regiment, to return next year are being considered.
28-year-old Harry recently qualified as an Apache air commander.
"We want to keep the Apache in Afghanistan until the end of 2014. It is just too useful to send home early," a source was quoted by the paper as saying.
General Sir Peter Wall, the head of the army, will make the final decision on Harry's deployment later this year.
The Ministry of Defence and St James's Palace declined to comment but the source said: "Harry has always said he does not want special treatment."
The third-in-line to the British throne returned from a tour of duty in Afghanistan in January this year.
Prince Harry's comments at the end of his 20-week deployment in the war-torn country then had created a furore.
His admission of killing the Taliban, saying it was a job "you would expect to do" as a soldier had created a controversy back then.
Harry had said that he was "thrilled" on being back in the UK after the Afghanistan deployment.