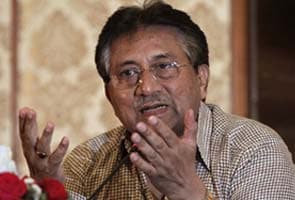 Islamabad:
A Pakistani court today extended the pre-arrest bail of former military ruler Pervez Musharraf by six days during proceedings conducted amid tight security.
Musharraf, 69, had applied to the Islamabad High Court for the extension of his bail in a case registered against him for placing dozens of judges under house arrest after imposing emergency rule in late 2007.
Justice Shaukat Aziz Siddiqui extended the pre-arrest bail till April 18 after hearing arguments by Mr Musharraf's lawyer.
The judge directed Musharraf, who appeared in court wearing a bulletproof jacket, to deposit Rs 5 lakhs as surety.
The judge pointed out that Mr Musharraf should have gone to a sessions court to seek the extension of his bail.
Mr Musharraf's lawyer said he had come to the High Court because of security concerns.
Mr Musharraf was late in arriving at the court by over half an hour, and his lawyer attributed the delay to security concerns.
When Mr Musharraf finally drove into the court complex in a motorcade of two black SUVs escorted by police vans, he found that the judge had gone for a tea break.
The former President had to wait for about 25 minutes in his SUV till the judge returned to the courtroom. The court complex was surrounded by police and paramilitary personnel.
Dozens of his supporters also gathered at the complex. Mr Musharraf walked into the courtroom flanked by several bodyguards.
Shortly after he returned to Pakistan last month after nearly four years in self-exile, the banned Tehrik-e-Taliban Pakistan said it had formed a special squad of suicide bombers and snipers to target the former military strongman.
The former President had earlier obtained pre-arrest bail from the Sindh High Court in connection with cases registered against him for the assassination of former premier Benazir Bhutto, the killing of Baloch leader Akbar Bugti in a 2006 military operation and the imposition of emergency in 2007.
Mr Musharraf plans to contest the May 11 general election but his nomination papers for three parliamentary constituencies in Karachi, Kasur and Islamabad were rejected by Returning Officers.
His nomination papers for another constituency in Chitral were accepted but several lawyers have filed objections.