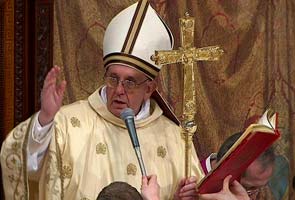 Vatican City:
Pope Francis, the first Argentine to rise to the throne of St Peter, loves tango and danced to the passionate South American music in his youth.
"I like it a lot. It's something that comes from within me," Jorge Mario Bergoglio said in an extensive 2010 interview published in the book "The Jesuit," by Sergio Rubin and Francesca Ambrogetti.
In the interview, the then cardinal Bergoglio revealed himself to be a bit of a connoisseur of the history of the tango, the music that emerged from the poor barrios of Buenos Aires and Montevideo.
He said he was a fan of the great tango singers Carlos Gardel and Julio Sosa and the early 20th century orchestra of Juan D'Arienzo.
As a good pastor, he related the world of tango to that of religion in the interview, and expressed admiration for Ada Falcon, a famous tango dancer who left it behind to become a nun.
He also said he had fond memories of singer and composer Azucena Maizani.
"I gave Azucena extreme unction (in 1970). I knew her because we were neighbors," he said.
Of the more contemporary tango scene, Bergoglio said he admired Astor Piazzolla, the Argentine composer and master of the bandoneon who is considered one of the greats of 20th century tango.
"Do you know how to dance tango?" Bergoglio was asked.
"Yes, I danced it as a young man, although I preferred the milonga," he said, referring to the faster paced country music that was one of the early roots of tango.
The future pope said he had a girlfriend then, and they would go dancing together with a group of friends, but the romance ended "when I discovered by religious vocation."