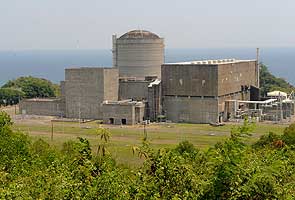 Bataan (Philippines):
In a fresh but ambiguous take on eco-tourism, travellers in the Philippines can visit a remote turtle sanctuary and then venture into the heart of a nearby nuclear power plant.
If tourists feel too weary to make the three-hour bus drive back to Manila after their unique day of sightseeing, they can stay at a guesthouse overlooking pristine South China Sea waters at the atomic site's private beach.
This tour-with-a-difference is part of the government's latest effort to make use of the idle Bataan Nuclear Power Plant - one of the country's most expensive and troublesome burdens.
"This will be the only tourist-friendly nuclear power plant in this part of the world", Dennis Gana, spokesman for state-owned power firm Napocor that runs the site, said over a lunch of barbecued tuna steaks and chicken at the beach.
"You don't see a nuclear power plant every day. Especially a nuclear reactor... so I think for most people it would be very thrilling."
Built nearly three decades ago under the rule of Dictator Ferdinand Marcos for about 2.3 billion dollars, the plant has never produced a watt of energy and continues to cost taxpayers more than 10,000 dollars a day to maintain.
Uranium was actually trucked into the site in 1984 and for nuclear power advocates the switch was at that point tantalisingly close to being turned on.
But the plant's fate was doomed in 1986 as Marcos was overthrown in a revolution and global fears over atomic energy spiked with the Chernobyl nuclear disaster in Ukraine.
Critics of the Bataan venture had also insisted the plant was built too close to earthquake fault lines, and that it was madness to entrust such a dangerous venture as nuclear energy to the corrupt Marcos regime.
Nevertheless, despite safety concerns over nuclear energy rising again amid the on-going crisis at Japan's tsunami-ravaged Fukushima plant, Napocor and some politicians still dream of reviving the Philippines' only atomic power option.