Highlights
US, South Korea and Japan, dropped bombs on training range east of Seoul
North Korea's actions are threat to our allies, partners, homeland: US
North Korea launched ballistic missile over northern Japan early Tuesday
The U.S. military, together with South Korea and Japan, dropped bombs on a training range east of Seoul in a stark new show of force against North Korea on Wednesday.
U.S. Pacific Command, which oversees military operations in the region, disclosed the mission Thursday. Two B-1B bombers from Andersen Air Force Base in Guam and four F-35Bs from Marine Corps Air Station Iwakuni in Japan joined with two Japanese F-15Js and four South Korean F-15Ks, flying in formation across the Korean Peninsula and unleashing live bombs on the Pilsung Range.
"North Korea's actions are a threat to our allies, partners and homeland, and their destabilizing actions will be met accordingly," said Gen. Terrence J. O'Shaughnessy, the commander of U.S. Pacific Air Forces, in a statement. "This complex mission clearly demonstrates our solidarity with our allies and underscores the broadening cooperation to defend against this common regional threat."
The 10-hour mission is the latest show of force involving U.S. fighter and bomber aircraft as North Korea continues its nuclear weapons and ballistic missile programs. North Korea launched a ballistic missile over northern Japan early Tuesday, warning afterward that it was a first step in having a "Pacific operation."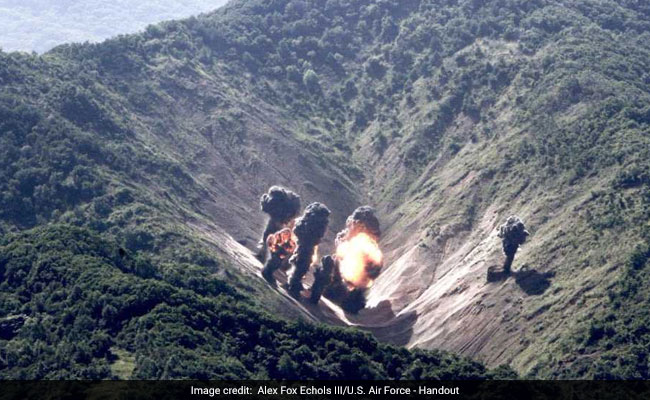 The mission marks the first use of the F-35B in such a mission and appears to be an effort to send a message to Pyongyang. The stealthy "fifth-generation" aircraft is considered the most advanced in the Pentagon's fleet of aircraft. It shows up as about the size of a bird on radar, making it hard for enemy forces to track. The F-35 can also serve as a quarterback for other U.S. combat aircraft flying alongside it.
Lt. Gen. David H. Berger, the commander of U.S. Marine Corps Forces Pacific, said in a statement that the F-35 contributes to the overall security and stability of the region and embodies a commitment to U.S. allies.
(This story has not been edited by NDTV staff and is auto-generated from a syndicated feed.)
Get Breaking news, live coverage, and Latest News from India and around the world on NDTV.com. Catch all the Live TV action on NDTV 24x7 and NDTV India. Like us on Facebook or follow us on Twitter and Instagram for latest news and live news updates.