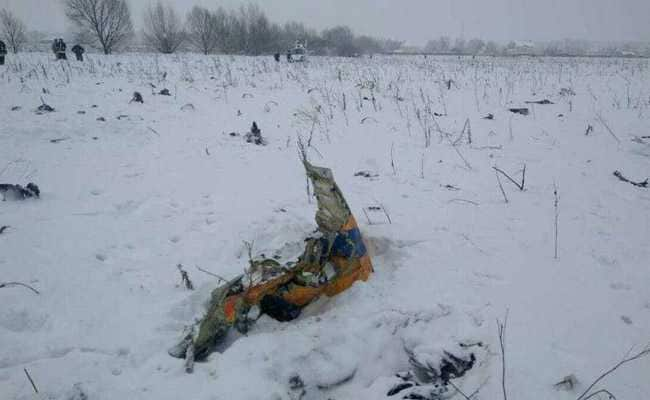 Highlights
Russian passenger plane crashes near Moscow, all 71 onboard dead
Saratov Airlines Flight 703 was heading from Moscow to Orsk
Plane disappeared from radar several minutes after takeoff
Moscow, Russia:
A regional airliner flying out of one of Russia's busiest airports crashed Sunday outside Moscow, killing all 71 people aboard, officials said.
Saratov Airlines Flight 703, heading from Moscow's Domodedovo airport to the city of Orsk on the Kazakhstan border, was carrying 65 passengers and six crew members, Russian officials said. It disappeared from radar screens several minutes after takeoff and went down in what witnesses described as a fiery crash southeast of Moscow.
The cause of the crash was not immediately clear. Officials said that none of the people aboard the Antonov An-148 jet are believed to have survived, according to reports from Russian news agencies.
Authorities spotted the wreckage in a field outside Moscow, the RIA Novosti news agency said.
"I walked out of my house and heard the plane hit the ground," a witness who was not identified said in an interview with REN TV. "There was a huge explosion."
Witness footage from the scene broadcast on Russian television showed orange-painted pieces of the fuselage scattered across the snow.
"We have all kinds of scenarios" for what may have caused the crash, Russian Transportation Ministry official Zhanna Terekhova told Rossiya-24 news channel. "This could have been caused by anything, including human error or weather conditions."
Almost all of the people on the plane were from the eastern part of the Orenburg region, according to the regional governor's office, the Interfax news agency said. Orenburg lies on the southern end of the Ural Mountains.
"This is a tragedy for all of Orenburg," Gov. Yury Berg said in a statement. "We will not leave anyone alone with the pain of losing loved ones."
Russia's most recent high-profile plane accident occurred in December 2016, when a military transport plane carrying dozens of members of the Red Army Choir to Syria crashed into the Black Sea.
Russia has long struggled with a poor airline safety record. From 2008 to 2017, 326 people died in accidents on Russian-scheduled commercial flights, according to the International Civil Aviation Organization. Sixty-one people died in the same period on U.S. flights.
Saratov Airlines, a regional airline based in the Volga port city of Saratov, said the An-148 that crashed came into service in 2010. The airline said that, in accordance with Russian law, relatives of the deceased could claim insurance payments of 2,025,000 rubles - about $35,000.
(This story has not been edited by NDTV staff and is auto-generated from a syndicated feed.)