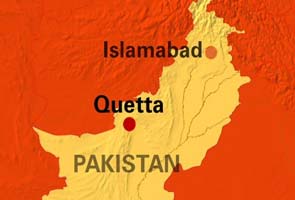 Quetta:
A senior Pakistani police officer was killed in a drive-by shooting in the troubled southwestern province of Baluchistan on Tuesday, police said.
Shah Nawaz Khan was a senior member of Baluchistan's Criminal Investigation Department (CID), which investigates all offences including terror cases and sectarian killings.
"He was killed in the early morning when he was going for a walk," provincial police chief Rao Amin Hashim told AFP.
"Two young persons were riding a motorcycle and one of them opened fire on him. They escaped and he succumbed to his injuries before medical help could arrive," Mr Hashim added.
The police chief said it was not immediately clear who was responsible.
Baluchistan suffers from Islamist militancy linked to the Taliban, sectarian violence between Sunni and Shiite Muslims and a separatist insurgency.
"He was posted in CID and was investigating many important cases. So I can't really say at this time who the killers were," Hashim said.
Other police officials in Baluchistan have said they have been threatened by Al-Qaeda-linked militant group Lashkar-e-Jhangvi, which has orchestrated violent killings of minority Shiites.
On April 29 the decapitated body of a British aid worker, Khalil Dale, was found in Quetta, almost four months after he was snatched by masked gunmen in the city. There was no claim for his murder.
Hundreds of civilians have been killed since Baluch rebels rose up in 2004, demanding political autonomy and a greater share of profits from oil, gas and mineral resources in the region.