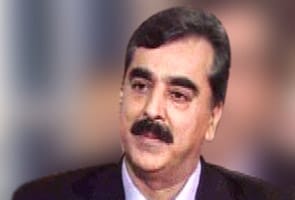 Islamabad:
Pakistan's main opposition leader has given the government a three-day deadline to accept a list of demands to avert its collapse.
Pakistan Muslim League-N (PML-N) chief Nawaz Sharif says the government must reverse recent fuel price hikes, cut government expenditures by 30 percent and implement a series of court verdicts against ruling party officials for corruption.
Sharif said that if the government fails to accept these demands within 72 hours, his group will join other opposition parties in moving against the government.
"Our aim is not to overthrow this government, but if it collapses, it will collapse because of its own incompetence and bad governance," said PML-N spokesman Sadiqul Farooq.
Uncertainty about the government's future spiked Sunday when the second-largest member of the ruling coalition, the Muttahida Qaumi Movement (MQM) defected to the opposition, depriving the government of a majority in parliament.
Gilani could rule with a minority coalition but would have to step down if he lost a no-confidence vote. Parliament could then vote on an alternative candidate or possibly move toward early elections.
The prime minister met with the PML-N and other opposition groups Monday in an apparent attempt to head off a no-confidence motion.
A no-confidence measure would require a majority of the 342-seat parliament to pass. The fate of such a motion would largely rest with the PML-N, the second-largest faction in parliament with 91 members.
Analysts have said the likelihood of PML-N backing is low because the party would be faced with potentially taking over the reins of government at such a difficult time. The PML-N has also expressed reservations about forming a coalition government with other opposition parties, with which it has troubled relations.
"We do not want to form a weak government with help from the small political groups," said Farooq, the PML-N spokesman. "If we do it, the coalition partners would start blackmailing us."
But Farooq cautioned that his party would do nothing to help prop up the PPP-led government.
"If they can complete their five-year term, they are most welcome to do it," said Farooq. "But if they cannot run the government after losing a majority, then they should decide whether fresh elections are required."