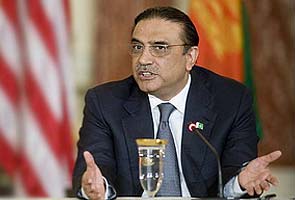 Islamabad:
Pakistan has suffered more than any other country from terrorism, President Asif Ali Zardari said at a SAARC conference in Islamabad.
Terrorism has claimed 40,000 lives in Pakistan and also caused economic loss of $80 billion, he said at the 6th meeting of SAARC speakers and parliamentarians on Sunday.
Durable peace in the region was in the interest of all, he said, and urged the SAARC nations to join hands to fight extremism and terrorism.
The SAARC groups Bangladesh, Bhutan, India, Maldives, Nepal, Pakistan, Sri Lanka and Afghanistan. India's Lok Sabha Speaker Meira Kumar also participated.
SAARC parliaments should lead efforts to protect political liberties, human freedom and the rule of law to promote regional peace, the Geo TV quoted him as saying.
Strong parliaments play a crucial role in ushering in reforms, Mr Zardari said, pointing that the present democratically elected government in Pakistan will complete its term.
"We are well on our way to realizing democracy's dividends," he said.