Islamabad:
Pakistan's parliament will meet on Tuesday to elect a new prime minister after the Supreme Court disqualified Nawaz Sharif following an investigation into corruption allegations against his family.
The ruling party named Sharif's younger brother Shahbaz as his successor over the weekend, but he must first enter parliament by contesting the seat left vacant by Sharif.
In the meantime the Pakistan Muslim League-Nawaz (PML-N), which enjoys a majority in parliament, has nominated ex-oil minister Shahid Khaqan Abbasi as interim prime minister.
The top court ousted Sharif Friday after an investigation into corruption allegations against him and his family, bringing his historic third term in power to an unceremonious end and briefly plunging the nuclear-armed nation into political instability.
Nawaz Sharif was the 15th prime minister in Pakistan's 70-year history -- roughly half of which was under military rule -- to be ousted before completing a full term.
"The nomination papers -- shall be delivered to the Secretary, National Assembly by 2.00 pm, on Monday," said a notification by the National Assembly Secretariat and seen by AFP.
It said the assembly would meet at 3:00 pm Tuesday (1000 GMT) to elect a prime minister.
Abbasi is set to be rubber-stamped as placeholder in the parliamentary vote. The opposition could also field a candidate but has little chance of securing enough votes in the 342-seat house.
The younger Sharif -- who is chief minister of the country's most populous province of Punjab -- has so far managed to remain unscathed by the corruption allegations engulfing his brother's family.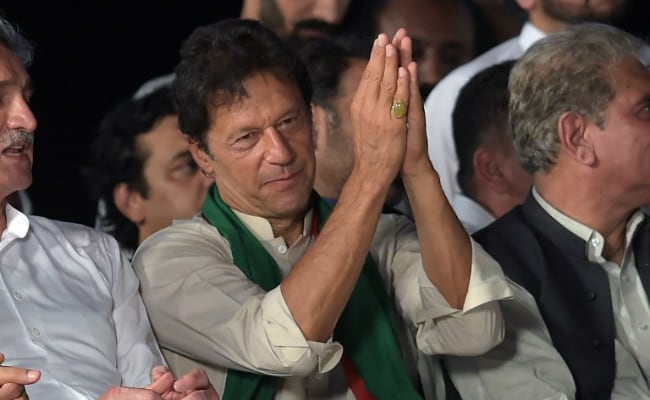 On Saturday the Election Commission said fresh elections would be held in Nawaz Sharif's former constituency, in the family's power base in Punjab, in a process that could take up to 45 days.
'Corrupt mafia'
At least 20,000 supporters of Pakistan's main opposition leader Imran Khan crowded into an arena on Sunday evening for a raucous rally -- dubbed the "Thanksgiving Rally" -- to celebrate Sharif's ousting.
With corruption allegations engulfing the powerful Sharif family -- a dominant force in the country's politics for the last three decades -- cricketer-turn-politician Khan is hoping to win support for his Pakistan Tehreek-e-Insaf (PTI) party.
"We will start accountability from the top," he told a sea of supporters, including hundreds of women and families, who defied the heat and humidity to cheer him on.
Criticising the dynastic nature of the Sharif transfer of power, he demanded: "Is there no one else in your (Sharif's) party to make prime minister?... It's not democracy, it's a kingdom."
More than 3,000 security officers were on hand at the rally, which had a festive atmosphere with Khan supporters decked out in the party's red and green colours. Some estimated the crowd size at as high as 40,000.
"I am here for solidarity with Imran Khan. He is the only leader who can rid this nation of dynastic politics," said Iqbal Shah, 60, who had travelled from the country's northwest to support Khan.
Khan himself also faces graft allegations in court linked to the non-disclosure of assets and offshore companies -- similar charges that brought down Sharif.
The case, brought by a member of Sharif's PML-N party, seeks to have Khan disqualified on the same contentious clause in the constitution that ousted Sharif -- the requirement that Pakistani politicians be honest.
Khan's lawyers have denied all charges and say his wealth stems from his lucrative cricketing career.
Get Breaking news, live coverage, and Latest News from India and around the world on NDTV.com. Catch all the Live TV action on NDTV 24x7 and NDTV India. Like us on Facebook or follow us on Twitter and Instagram for latest news and live news updates.