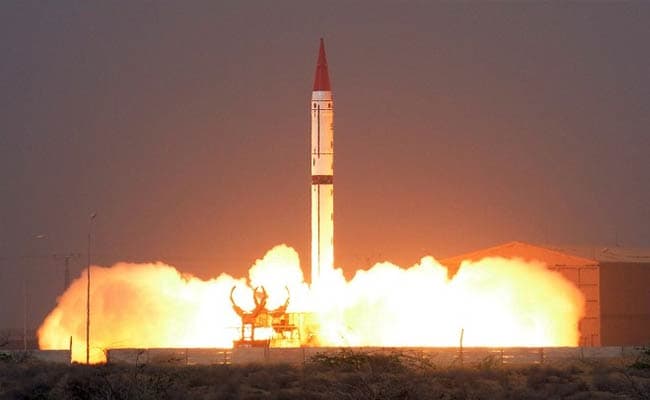 Islamabad:
Pakistan today successfully test-fired the medium-range Shaheen-III surface-to-surface ballistic missile which can carry nuclear warheads up to 2,750 kms bringing many Indian cities within its range.
The test flight of the missile was aimed at validating various design and technical parameters of the weapon system, according to a statement from the military's Inter-Services Public Relations (ISPR).
It added that the missile is capable of delivering nuclear and conventional warheads in a range of 2,750 kms.
The impact point of the missile test was in the Arabian Sea, validating all desired parameters, the statement said.
The test was witnessed by senior officers from Strategic Plans Division, Strategic Forces, Scientists and Engineers of Strategic Organisations.
Director General Strategic Plans Division, Lieutenant General Mazhar Jamil, said the country had achieved a "significant milestone" in complementing the deterrence capability.
He said Pakistan desires peaceful co-existence in the region for which nuclear deterrence would further strengthen strategic stability in South Asia.
Pakistan President Mamnoon Hussain and Prime Minister Nawaz Sharif congratulated the military scientists and engineers on the successful missile test.
Pakistan had test-fired the Shaheen-I and Shaheen-II missiles last year.
Shaheen-I is also capable of carrying nuclear as well as conventional warheads and has a range of 900 kms while the Shaheen-II missile can also carry nuclear and conventional warheads up to a range of 1,500 kms.