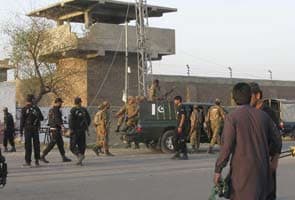 Islamabad:
Pakistan's five-year-old moratorium on executions will end with the hanging of four convicts, including three high-profile terrorists, this month, a senior official said today.
Ejaz Chaudhary, Chief Secretary of southern Sindh province, said the four convicts will be hanged in Sukkur Jail on August 20, 21 and 22.
He told a meeting on the law and order and security situation chaired by the Sindh High Court Chief Justice that the federal government has given approval for the hangings. The convicts include three members of the banned Lashkar-e-Jhangvi and Tehrik-e-Taliban Pakistan.
Inspector General of Prisons Nusrat Mangan said none of the four convicts had approached superior courts for a review of their death sentences. They would therefore be executed according to the orders of anti-terrorism courts.
Mangan said one of the condemned terrorists was awarded the death sentence in six cases while another was given the death penalty in four cases.
The government has beefed up security at the central jails in Karachi and Sukkur after receiving intelligence reports and threats that the outlawed groups may attack these prisons to free their members.
Security was also beefed up after the jailbreak in Dera Ismail Khan in Khyber-Pakhtunkhwa province earlier this month.
The Taliban freed some 245 prisoners, many of them militants. A Taliban faction today warned the government that it would face dire consequences if it hanged militants who are on death row.
The PML-N government at the centre recently decided to resume executions after a moratorium imposed by outgoing President Asif Zardari ended on June 30.
The Sukkur Jail has not carried out a death sentence in 11 years. Under the previous Pakistan People's Party-led government, only one soldier convicted by a military court was put to death since 2008.
On June 3, Sindh High Court Chief Justice Mushir Alam said the law and order situation would not improve unless convicts on death row are executed. According to Amnesty International, Pakistan has over 8,000 prisoners on death row, most of whom have exhausted the appeals process.