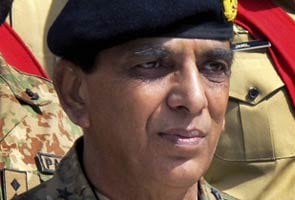 Islamabad:
Pakistan's powerful Army chief General Ashfaq Parvez Kayani today declared that he was not seeking any more extension and would retire as scheduled on November 29, laying to rest intense speculation about his future.
"My tenure ends on 29th November 2013. On that day I will retire. May the Almighty Allah help and guide us all," General Kayani said in a statement.
Kayani was appointed the army chief by former military ruler Pervez Musharraf in late 2007. He was given an unprecedented three-year extension by then premier Yousuf Raza Gilani in 2010.
In a surprise announcement, he said institutions and traditions are stronger than individuals and must take precedence. He also reposed military's support to democracy. "For quite some time, my current responsibilities and likely future plans have been debated in the media with all sorts of rumours and speculations doing the rounds. The subject of being entrusted with new duties has also come up in several reports," he said.
61-year-old Kayani said he was grateful to the political leadership and the nation for reposing their trust in him and Pakistan Army at this important juncture of country's national history.
"However, I share the general opinion that institutions and traditions are stronger than individuals and must take precedence," he said.
Kayani underlined that as he completes his tenure, the will of the people has taken root and a constitutional order is in place.
"The armed forces of Pakistan fully support and want to strengthen this democratic order. Pakistan Army has made its contribution towards this desired END with complete clarity of mind and a comprehensive understanding of the trajectory Pakistan needs to take.
"They have also proven, on countless occasions, through their priceless sacrifices that the defence and prosperity of Pakistan is their highest priority," he said.
Describing Pakistan a great nation, Kayani said he had the privilege of commanding the finest Army of the world for six years to the best of his abilities and with the sincerest intentions.
"It is time for others to carry forward the mission of making Pakistan a truly democratic, prosperous and peaceful country that embodies the finest dreams our founding fathers had envisaged for us," he said.
Earlier, media reports here said Kayani was seeking an extension and could be made the new chief of the revamped Joint Chiefs of Staff Committee after its current Chairman Gen Khalid Shameem Wynne retires.
Reports said leading the race for the army chief's post on the basis of seniority is Lt Gen Haroon Aslam, currently Chief of Logistics Staff.
Aslam will be the senior-most general when Kayani retires. He has served as Director General of Military Operations, commanded the Elite Force Division of the Special Services Group and headed the Bahawalpur-based XXXI Corps.
He also led the successful anti-Taliban operation in Swat Valley in 2009 and is due to retire on April 9 next year.
Two other generals in contention for the post of army chief are Lt Gen Rashid Mehmood, Chief of General Staff, and Lt Gen Raheel Sharif.
Following them is Lt Gen Tariq Khan, Commander of 1 Strike Corps at Mangla, and ISI chief Lt Gen Zaheer-ul-Islam.
The post of the army chief will fall vacant at a time when Pakistan is facing major national security issues as well as the NATO troop withdrawal from war-ravaged Afghanistan.