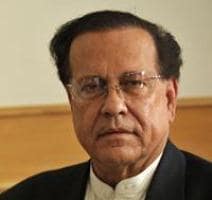 Lahore:
Pakistani police have arrested a man who had announced a Rs 20 million prize for anyone who killed Punjab Governor Salmaan Taseer for opposing the country's controversial blasphemy law.
Sardar Ebaad Dogar of Khangarh near Multan was arrested yesterday shortly after Taseer was gunned down by a guard who claimed he was angered by the Governor's opposition
to the blasphemy law.
Taseer was shot dead yesterday at a market in Islamabad by one of his bodyguards who was opposed to his criticism of controversial blasphemy laws.
Police took Dogar to an undisclosed location for interrogation. Dogar had announced at a rally on Friday that he would pay Rs 20 million to the person who killed Taseer.
The rally was organised by religious hardliners to oppose any move to repeal or amend the blasphemy law.
Talking to the media after the rally, Dogar had said he felt no embarrassment in offering the reward.
He said he would raise the bounty to Rs 30 million if a resident of Khangarh killed Taseer.
Dogar had served as Khangarh district's nazim or mayor after being elected on the ticket of the opposition PML-Q.
He was accused of having links with the banned Sipah-e-Sahaba before joining the PML-Q.
Taseer had angered religious groups and clerics after he called for reforms in the blasphemy law introduced during the regime of former military ruler Zia-ul-Haq and backed a move to pardon Asia Bibi, a Christian woman sentenced to death last year for insulting Prophet Mohammed.