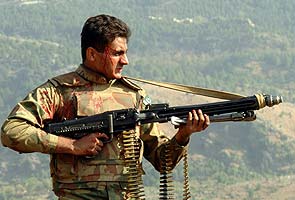 Islamabad:
Pakistan's Taliban-fighting soldiers are set for celebrity status with the launch of a multi-million-dollar glossy television drama hailing army victories over militants.
Emotive tales of 11 "brave Pakistanis" battling an Islamist insurgency that is plaguing Pakistan and neighbouring Afghanistan, will air on the small screen in an army-funded drama that casts the anti-terror fight in a positive light.
Focused on the heroism of soldiers fighting a key air and ground offensives in the northwestern Swat valley in 2009, one tale looks at the deeds of soldier Hawaldar Naeem Asghar who died fighting an insurgent checkpoint.
Asghar, portrayed as a hardworking soldier from peasant roots, sacrifices his life to overcome Taliban dug in to a hilltop, during operations in the town of Mingora to flush militants from the picturesque valley.
Throwing grenades from his bunker without success, Asghar is depicted abandoning cover and climbing the hill, tossing more explosives on his way as bullets rain down from the rebels' post.
The checkpoint is destroyed, but Asghar is killed.
"Hawaldar Asghar's story is a common man's story. It's a message to the public that everybody can play a role in the fight against extremism," says Sajjad Saji, one of the drama serial's writers.
"It is filmed to encourage the common people in this war," he adds.
Urged by its key but critical ally the United States to launch further operations in the lawless tribal areas bordering Afghanistan, the army wants to show the sacrifices it has already endured in the war on terror.
"The basic purpose is to reveal the deeds of bravery of our soldiers, officers and civilians who are at the front of this war.... This drama shows the human face of the war," says Major General Athar Abbas, head of the army's publicity wing.
"The nation should own these stories of bravery and sacrifice, they should be proud of our sons and daughters of the land who created these true stories with their blood and defended the motherland."
One of the filmmakers, who would not be named, said the high-end production was a "multi-million-dollar" effort, but refused to put a precise figure on costs.
The production, peppered with special effects, was filmed amid rugged verdant hills and forests close to the Swat valley -- scene of major operations by Pakistan's military in 2009 to rid the area of rampant militancy.