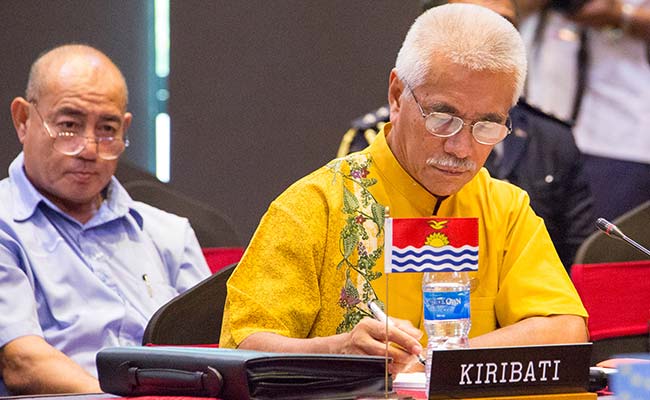 Sydney:
President Anote Tong, whose low-lying Pacific nation of Kiribati is threatened by rising seas, Saturday criticised an Australian minister's quip about "water lapping at your door", saying it showed "moral irresponsibility".
Immigration Minister Peter Dutton made the remark on Friday while chatting with Prime Minister Tony Abbott, who had just returned from the Pacific Islands Forum (PIF) in Papua New Guinea's capital Port Moresby.
As the event they were at appeared to be running late, Dutton made mention of "Cape York time", a reference to a remote indigenous area in Australia's far northeast.
When Abbott replied that there were similar issues in Port Moresby, Dutton said in comments captured by a media microphone: "Time doesn't mean anything when you're about to be, you know, have water lapping at your door."
Combatting climate change was a key issue at the PIF, with leaders ultimately agreeing to disagree after Australia and New Zealand blocked a bid by small island states to limit average global warming to 1.5 degrees Celsius (2.7 degrees Fahrenheit) over pre-Industrial Revolution levels rather than 2 degrees.
Kiribati's Tong, who has long campaigned about the impact of climate change in the Pacific, said he had reacted with "sadness" rather than anger to Dutton's remark.
"I find that extremely sad, extremely disappointing. that we are making jokes about a very serious issue," he told the Australian Broadcasting Corporation.
"It shows a sense of moral irresponsibility quite unbecoming of leadership in any capacity."
After the days of tension about climate change in Port Moresby, Marshall Islands Foreign Minister Tony de Brum also expressed his dismay about the comments.
"Seems insensitivity knows no bounds in the big polluting island down s(ou)th," he tweeted.
"Next time waves are battering my home & grandkids are scared, I'll ask Peter Dutton to come over, and we'll see if he is still laughing."
Abbott defended Dutton, pointing out that his minister had spent the week drawing up plans to resettle 12,000 refugees from the Middle East.
"If there's one thing that should be remembered about Peter Dutton's week, it's that this is the week that he masterminded the plan to bring 12,000 needy people to this country," Abbott said in Canberra.
But criticism also came from other quarters, with indigenous leader Gerhardt Pearson from Cape York saying Dutton's comments were an echo of past times.
"We are constantly burdened with the view espoused by the likes of Dutton: it's one of soft bigotry and low expectations, and it continues to dominate policy responses," he said in a statement.