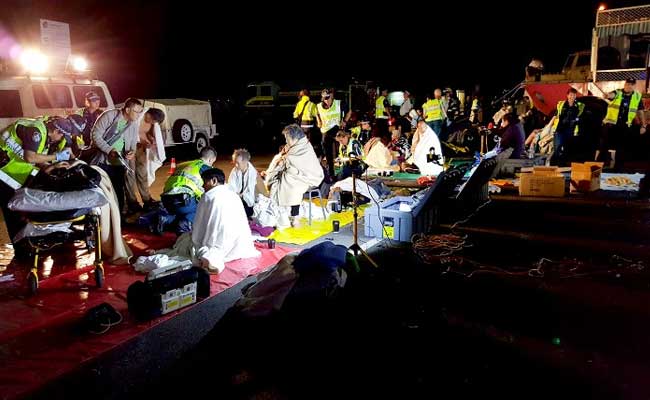 Sydney:
More than 40 tourists, many of them elderly Chinese, were recovering today after jumping into life rafts when the catamaran they were aboard caught fire in Australia.
The Spirit of 1770 got into trouble 10 nautical miles off the coastal town of 1770 following a day-trip to Lady Musgrave Island on the Great Barrier Reef, apparently when a fire started in the engine room.
The local Gladstone Observer newspaper said the 42 passengers and four crew abandoned ship and jumped into the water before swimming to life rafts late on Wednesday.
They drifted for several hours before three rescue boats arrived and ferried them ashore, where pictures showed them huddled under blankets as they were treated by paramedics.
"Of the 46 people on board, 19 received treatment for non-life threatening injuries at hospitals in Bundaberg and Gladstone," Queensland police said in a statement.
"The vessel caught fire around 4pm (on Wednesday) and was subsequently abandoned around 4.30pm prompting a search and rescue operation.
"Investigations into the incident are continuing."
The Observer said many of the tourists were elderly Chinese, with others from Canada, New Zealand and Britain.
English traveller Gemma Sargent said she was woken by people shouting about the fire.
"All of a sudden the captain goes 'Get off the boat!' and I'm looking at him thinking 'How?'," she told Seven News.
"Everyone literally got shoved off whether you could swim or not."
Lady Musgrave Island, a coral cay, is a popular tourist destination some 500 kilometres (310 miles) north of Brisbane and is only reachable by boat.