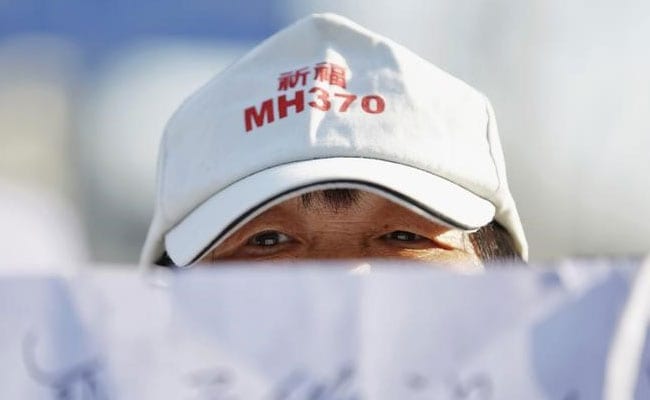 Nosy Boraha, Madagascar:
It was a heartfelt journey before Christmas, a search for clues about loved ones who disappeared in a still unsolved mystery. The mission was a long shot, at best.
But for several families seeking answers over the fate of relatives who perished aboard flight MH370 from Kuala Lumpur to Beijing on March 8, 2014, any effort is better than none.
Frustrated by a lack of progress in official investigations into the disappearance of the Malaysia Airlines Boeing 777, the families spent the past week in Madagascar, combing beaches.
Fragments identified with "near certainty" as coming from the aircraft were discovered in recent months on the coast of East Africa, prompting the unorthodox search.
Jiang Hui, a 44-year-old from China who lost his mother on the flight, has not given up hope of finding out why 239 people disappeared without a trace.
"When I first found debris on Wednesday, I was very excited... and very sad," he said, after a day that was both physically and emotionally gruelling.
"Whenever we discover this kind of fragment, I think we are getting closer to the truth. This is what I want to hope for," he said, under a boiling hot sun.
Neither the location nor the cause of the crash is known, feeding wild conspiracy theories. The families have covered parts of Madagascar on foot, by 4x4 vehicles and on quad bikes.
Trying to stay positive
And they have been accompanied by Blaine Gibson, an American amateur investigator who has also been trying to find out what happened to flight MH370.
Over two days of searching, the team found debris on Nosy Boraha, an island off the eastern coast. After a discovery on the second day, a Malaysian woman who lost her husband onboard MH370, burst into tears.
But such finds harden Hui's resolve.
"I think our trip to Madagascar was justified," he said before the group left Sunday, mindful that such discoveries are just the starting point in the quest for clues, as the fragments could easily have come from a boat, not a plane.
The finds bore no identifiable features and they will be passed to local authorities before being sent to Malaysia for analysis. The process can take months.
Whether in hope or out of actual belief, Hui tries to stay positive.
"I have done a lot of research on aeroplane debris to know what it looks like. I know very well what to look for," he said.
Some of the families ventured to Madagascar out of a sense of desperation, exasperated at the lack of progress in the official searches and investigation.
It is believed MH370 crashed into the Indian Ocean, but an extensive deep-sea hunt off Australia's west coast failed to find a single piece of debris.
Message in a bottle
As such, families took matters into their own hands.
"I would prefer that the authorities do this," rather than rely "on tourists or fishermen to find debris by chance", said Hui, adding that a coordinated effort would be "much better".
In Madagascar, some officials from the Malaysian government travelled with the relatives of MH370 victims.
"The bigger the piece (of debris), the greater the chance we have of determining its origin," explained Aslam Basha Khan of the Malaysian Ministry of Transport.
"But sometimes we are not able to make a direct link with the plane," Khan said.
The families also used the trip to heighten awareness among the local population about the search.
In Nosy Boraha, a guide named Cyriak Rakotosoa, who found a piece of debris in October, has become an ally.
"I tell the fishermen that if they find something similar they should bring it to the hotel. But usually if they do, they use it to repair a roof."
In a sign of the distress felt by the families, Li Er You, a Chinese man whose only son was on MH370, threw a bottle filled with money and a letter into the sea.
"We put all our heart into this bottle," he said. "We hope someone will find it who knows where the plane fell. If someone finds this bottle, please contact me quickly."
(This story has not been edited by NDTV staff and is auto-generated from a syndicated feed.)