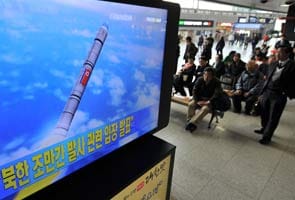 Seoul:
South Korean Foreign Minister Kim Sung-Hwan said on Friday that North Korea's rocket launch had failed.
"North Korea fired a de-facto long-range missile this morning, but it ended in failure," he told journalists.
Earlier, Seoul's Defence ministry spokesman Kim Min-Seok had said that the rocket had disintegrated shortly after blastoff.
"A few minutes after the launch, the rocket disintegrated into several pieces and lost its altitude," Kim told journalists.
Yonhap
news agency quoted a high ranking military source as saying that the debris fell into the Yellow Sea off South Korea.
"The debris fell into the sea some 190km-200km (118-124 miles) west of (the southwestern port of) Kunsan," a high ranking military source was quoted as saying by Yonhap.
A South Korean analyst told
Yonhap TV
that the launch may have failed after the first stage of the rocket failed to separate.
North Korea had said the rocket would place a satellite in orbit for peaceful research purposes, but Western critics see the launch as a thinly veiled ballistic missile test, banned by United Nations resolutions.
North Korean officials had no immediate comment Friday on reports of the launch but said an announcement would be made soon.