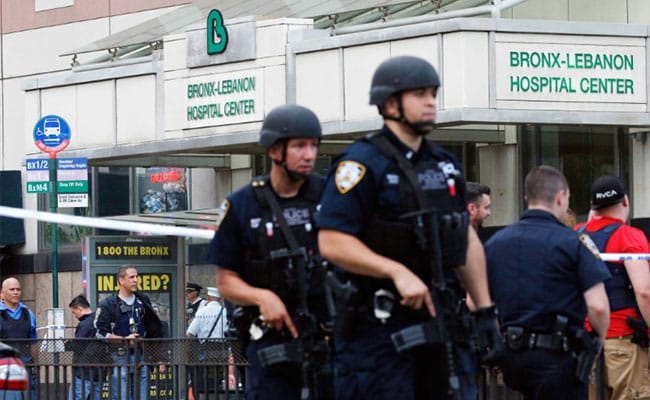 A former employee opened fire inside one of New York City's busiest hospitals on Friday afternoon, killing one doctor and wounding six other people before taking his own life, New York police said.
New York Police Department Commissioner James O'Neill said during an early evening news conference that police received a 9-1-1 call at 2:55 p.m. about an active shooter wearing a white lab coat and armed with an assault rifle at Bronx-Lebanon Hospital. Responding officers located six victims on the 16th floor - five with serious injuries and another who had been shot in the leg - and another victim, a female doctor who had been shot and killed, on the 17th floor.
"There are several doctors who are fighting for their lives right now," New York Mayor Bill de Blasio said during a press conference. "The shooter killed himself, but not before having done horrible damage."
O'Neill said that the shooter then attempted to set himself on fire on the hospital's 17th floor, prompting the building's fire alarms and sprinkler systems to activate. Police later found the gunman dead with what they believe to be a self-inflicted gunshot wound.
The Associated Press, citing anonymous police sources, identified the gunman as a family medicine physician who previously worked at the hospital.
Raymond Thomas, 52, said he was visiting a friend on the fourth floor of the building across the street from the hospital. They were listening to music and heard a noise but couldn't be sure is was gunfire. "All I know is I looked over (out the window) and saw people coming out in a hurry," he said. A few minutes later, he said, he saw the police presence and saw people being hurried around by police. "It's really crazy to see a shooting at a hospital, you know?"
Staff members of the 1000-bed hospital told local media that soon after the shooting began they received a "code silver" alert - meaning there was an active shooter, and they began to instruct patients to hide.
"The cops started rushing in," Michael Bias, an employee on the hospital's ground floor emergency room, told ABC-7 in New York, in a live interview soon after the shooting. "We tried to keep the patients calm. . . All we heard was the commotion."
New York Mayor Bill de Blasio praised police and firefighters who responded to the shooting and hospital staff who helped hide and comfort patients.
"Even in the midst of this horror there were many, many acts of heroism," de Blasio said.
Even hours after the shooting, some family members of hospital employees and patients remained at the scene, waiting to be reconnected with those still being held inside the hospital.
Just before 7 p.m., Margaret Howard, 45, paced near the police tape cordoning off the hospital, phone pressed to her ear.
"I'm still trying to reach her," Howard said of her mother, who had been a patient at the hospital for more than a week. "I don't think she was hurt but I just want to check on her. She's old and probably scared."
- - -
The Washington Post's Renae Merle in New York contributed to this report.
(This story has not been edited by NDTV staff and is auto-generated from a syndicated feed.)