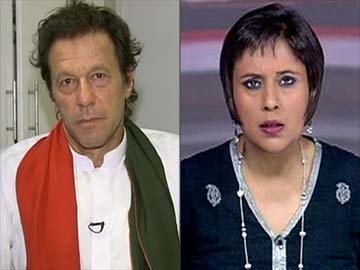 Islamabad:
Pakistan Tehreek-i-Insaf (PTI) chief Imran Khan speaks to NDTV about the current crisis in his country.
Following are the highlights of his interview:
They want Constitution Avenue vacated. We're not on that road, so court order doesn't apply to us
We want people who are responsible for electoral malpractices to be punished
After last night, Nawaz Sharif has lost all moral authority. The Additional Secretary of Election Commission of Pakistan came out with revelations of rigging
All we want is an investigation, the government can stay but Nawaz Sharif can't be PM because under him investigation can't be independent
After last night's revelations, everyone in Pakistan knows what actually happened

Our movement has been on for 14 months - we produced a 2100-page white paper showing evidence of rigging but nothing happened
For the sake of Pakistan's democracy, we must take a stand. Democracy isn't in elections, but it is in free and fair elections
Normally, in any democracy (after last night's revelations) the Supreme Court would have stepped in and called for fresh elections

Nawaz Sharif should step down as PM, they should have another member from their party as PM and an investigation is held...