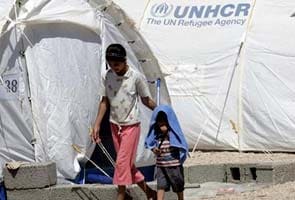 Brussels:
NATO Secretary-General Anders Fogh Rasmussen said today the world had made clear that any use of chemical weapons in Syria was unacceptable and a breach of international law.
"This is ... a matter of great concern," he told reporters after talks in Brussels with Moldovan Prime Minister Iurie Leanca. "The international community has made clear that any use of chemical weapons is completely unacceptable and a clear breach of international law."
The White House said on Thursday that US intelligence agencies had concluded that Syrian President Bashar al-Assad's forces had used chemical weapons on a small scale against rebel fighters in Syria's civil war.
Rasmussen welcomed the "clear US statement" but did not mention any specific NATO response to it. NATO has sent Patriot anti-missile batteries to Syria's neighbour Turkey, a NATO member, but Rasmussen has said repeatedly that the Western alliance has no intention of intervening militarily in the Syrian civil war.
Rasmussen said it was urgent for the Syrian government to grant access to the United Nations to investigate all reports of chemical weapons use.
He said he still believed the right way forward was a political solution. He urged the Syrian government and opposition to attend an international conference planned by the United States and Russia and called on all sides to "stop the bloodshed immediately".
© Thomson Reuters 2013