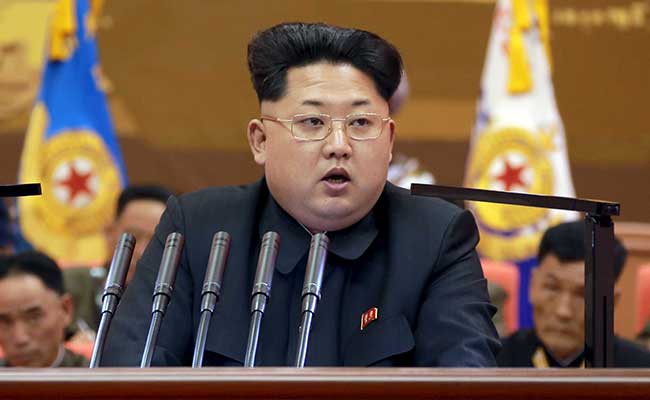 Seoul:
North Korea said today it had no interest in following Iran down the path of nuclear dialogue, insisting it was already a nuclear weapons state and therefore beyond any logical comparison with Tehran.
One week after the historic deal that cleared a path to lift sanctions crippling Iran's economy in exchange for limits on its nuclear programme, Pyongyang rejected any suggestion that it might follow suit.
North Korea "is not interested at all in the dialogue to discuss the issue of making it freeze or dismantle its nukes unilaterally," a foreign ministry spokesman said.
 "It is illogical to compare Iran's nuclear agreement with the situation of (North Korea) which is exposed to constant provocative military hostile acts and the biggest nuclear threat of the US," the spokesman told the North's official KCNA news agency.
Both Tehran and Pyongyang, allies since Iran's 1979 Islamic revolution, have been subjected to tough economic sanctions over their controversial nuclear programmes.
The deal reached with Iran was touted by some as a possible blueprint for eventual negotiations with North Korea, with US Undersecretary of State Wendy Sherman saying she hoped it would give Pyongyang "second thoughts" about the nuclear path it was pursuing.
But the North's foreign ministry spokesman said the two situations were "quite different".
North Korea "is a nuclear weapons state both in name and reality and it has interests as a nuclear weapons state," he said.
North Korea has staged three successful nuclear tests in 2006, 2009 and 2013.
The six-nation talks to curb its nuclear ambitions -- involving both Koreas, the US, China, Russia and Japan -- have been in limbo since Pyongyang stormed out in 2009.
There has been growing pressure for the international community to try a new approach with North Korea, which has pushed ahead with its nuclear and missile programmes despite multi-layered UN sanctions and diplomatic isolation.
The United States and South Korea insist that the North must show a tangible commitment to denuclearisation before significant talks can resume.
A recent report by US researchers warned that North Korea was poised to expand its nuclear programme over the next five years and, in a worst-case scenario, could possess 100 atomic arms by 2020.
"Nuclear deterrence... is not a plaything to be put on the negotiating table," the foreign ministry spokesman said.