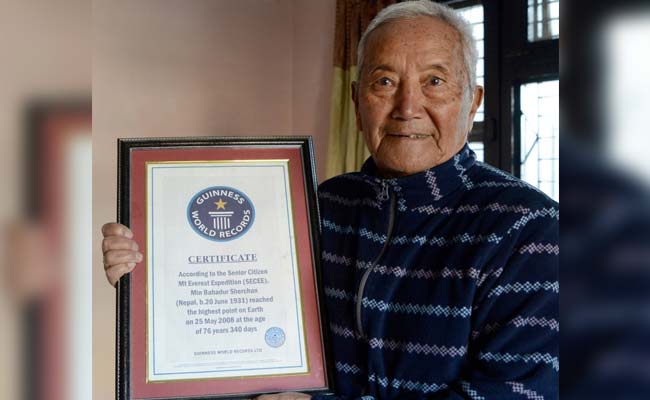 Kathmandu:
Nepal's octogenarian mountaineer Min Bahadur Sherchan died in the Everest Base Camp today, making it the second casualty this spring expedition. Scaling the Mount Everest is considered one of the toughest jobs for climbers globally, as scores of aspirants die every year.
According to Dinesh Bhattarai, Director General of Tourism Department of Nepal, Mr Sherchan died at 5.14 pm. Doctors suspect "heart attack" to be the reason of his death.
Mr Sherchan, 86, was making an attempt to scale the Mount Everest in a bid to reclaim the honour of being the oldest man to climb the world's tallest peak. Only last week, famous Swiss climber Ueli Steck was lost to the Everest region.
Mr Sherchan had left for the Everest base camp this Sunday, leading a seven-member team.
He had scaled the Everest summit in May 2008, when he was 76 years and 340 days old, and was recognised as the oldest person to climb the peak by the Guinness World Records in November 2009, replacing previous record holder Japanese Yuichiro Miura.
Mr Miura first climbed the peak in 2003 at the age of 70. He scaled Everest again in May 2008 when he was 75, but he did not set a record as he reached the summit a day after Mr Sherchan achieved the feat at 76.
In 2013, Mr Miura snatched the record back from Mr Sherchan by stepping on the summit at the age of 80.
Before leaving to the Everest Base Camp, the visibly confident Mr Sherchan had said that though he was old in terms of age, he still had the courage to ascend the Everest.
Earlier in 2015, too, he had tried to climb the Everest but returned from base camp after an avalanche hit the Everest due to the earthquake in Nepal.