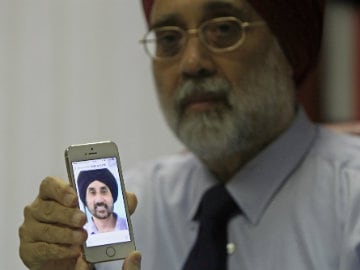 Kuala Lumpur, Malaysia:
The brother of Malaysian oil worker Karamjit Singh, who died when Malaysia Airlines Flight 17 was shot down over eastern Ukraine on July 17, is urging authorities to speed up their probe into the accident. He wants the answer to one question: "Who actually pulled the trigger?"
Here are some quotes from an interview with Rajindar Singh by the Associated Press at his house in the northern Malaysian state of Perak. He was first asked about his response to the release of a preliminary report by Dutch authorities that said the plane was likely struck by multiple "high-energy objects from outside the aircraft," but didn't say who was responsible.
________
"Reading through the 34 pages of the report, it just confirms what we knew. There was nothing new in the report. We all want to know who fired the missile and why it was fired. There were so many flights in that corridor that particular day. Why were we targeted? Was it a random act or was it purposely targeted? That is the question we want to know."
_______
"Under the circumstances, they have tried their best but we have to get down to the bottom of it. Who actually pulled the trigger? I am sure with the tests that are available they should know where the particular missile came from."
_______
"A disaster has taken place, innocent lives have been lost and we can't replace them. I think prevention is the answer now. Let us hope the international authorities and the aviation authorities will work together to make sure that commercial flights are safe. The aviation authorities should ensure that such an incident do not occur again.
_______
"It was a shock. After we heard the news, we started prayers for his soul. The fact that we recovered the remains of my brother and were able to do the final rites has brought a closure. And we are moving on."
Get Breaking news, live coverage, and Latest News from India and around the world on NDTV.com. Catch all the Live TV action on NDTV 24x7 and NDTV India. Like us on Facebook or follow us on Twitter and Instagram for latest news and live news updates.