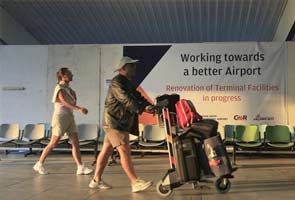 Male:
The Maldivian government on Saturday described as "seamless" the retaking of the country's international airport from an Indian developer following a bitter row that triggered a spat with its neighbour.
The government of President Mohamed Waheed last week decided to revoke a 25-year lease of the airport in the capital Male, asking infrastructure company GMR to quit by midnight Friday (1900 GMT), two years after it took over.
"The handover process of the Ibrahim Nasir International Airport has gone seamlessly, as predicted," Waheed's spokesman Masood Imad said.
"We now have the long and difficult task of weeding out corruption and inefficiency" in the airport's operations, he said.
The opposition Maldivian Democratic Party of former president Mohamed Nasheed, who initiated the privatisation with GMR in 2010, staged a peaceful protest against the move on Friday night, witnesses said.
Nasheed had warned that scrapping the deal could jeopardise foreign investment prospects in the popular honeymoon destination and also hurt ties with neighbouring India.
But Waheed targeted the privatisation of the airport for its alleged corruption and also nationalist reasons with his government objecting to such a prominent asset being run by foreigners.
There was no immediate comment on Saturday from GMR, which two days earlier lost a legal battle in Singapore where the Supreme Court ruled the Maldivian government had the right to take back the airport.
"At the moment things are calm," GMR spokesman Arun Bhagat told AFP on Friday, just before the handover of the airport.
The two sides have agreed on a three-week transition period for the Maldivians to run the airport after taking possession on Friday.
The Male airport deal was expected to see GMR and its partner, Malaysia Airports Holdings, pour more than $500 million into the Indian Ocean archipelago, in what would have been the biggest ever foreign investment.
There has been sharp concern voiced in India at the abrupt nationalisation move by its tiny southwestern neighbour.
Underpinning India's worries are claims by the Maldivian opposition that the country is tilting towards China, which set up an embassy in Male last year and is carrying out construction projects in the archipelago.
Waheed's office, however, denies any suggestion of Chinese influence.