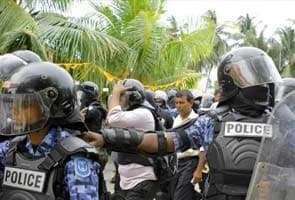 Male:
Maldivian police on Monday arrested the country's first democratically-elected president Mohamed Nasheed after he again failed to turn up for the start of a trial for abuse of power, his party said.
"President Nasheed grabbed from protesting supporters, arrested and being taken away from Fares-Mathoda," his Maldivian Democratic Party (MDP) spokesman Hamid Abdul Ghafoor tweeted from a remote atoll in the Indian Ocean archipelago.
The arrest came after a special court on Sunday ordered police to arrest Nasheed, who had challenged the legality of a criminal trial against him.
The magistrates court on the island of Hulhumale issued the arrest warrant after Nasheed failed for a second time to show up before a special three-judge bench set up to try him.
A court official said the warrant asked police to "keep Mr Nasheed in custody until he is produced before the court".
Nasheed resigned as president in February after what he described as a coup. The Maldives -- better known as a luxury tourism destination -- has since been rocked by demonstrations and occasional violence.
The court case centres on Nasheed's decision to send the military to arrest a senior judge earlier this year. That fuelled simmering anti-government protests, culminating in a police mutiny and Nasheed's downfall.
In a statement issued hours before Nasheed's arrest, the MDP urged the international community to engage with Nasheed's successor, Mohamed Waheed, to maintain maximum restraint.
"The MDP strongly calls on the international community, our development partners to immediately engage in dialogue with Dr. Waheed to maintain maximum restraint and to not do anything that would disrupt peace and stability of the country."
Nasheed, who won the Maldives' first democratic elections in 2008, maintains he will not get a fair trial.
If convicted he could be jailed or banished to a remote island for three years, a punishment that could bar him from future elections.
The next elections are scheduled to take place by July next year.