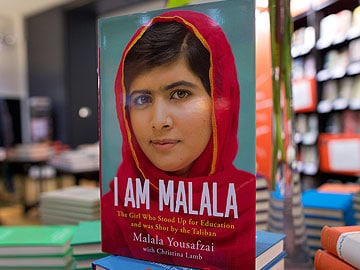 Islamabad:
A book by Malala Yousufzai, the Pakistani schoolgirl who fearlessly took on the Taliban, has been banned by a federation of private schools in Pakistan which said it would have a "negative" impact on students, a British daily reported on Sunday.
"I am Malala" will not be included in the schools' curriculum, nor will it be stocked in school libraries, Mirza Kashif, president of All Pakistan Private Schools Federation, was quoted as saying by The Independent.
The federation represents more than 152,000 institutions across the country.
"The federation thought we should review the book, and having reviewed it, we came to the decision that the book was not suitable for our children, particularly not our students," Mirza Kashif said. "In this book, are many comments that are contrary to our ideology."
Pakistan's many elite schools are members of the federation. The government has no plan to put Malala's book on curriculum of state schools, although it is not banned.
The book has been written jointly by 16-year-old Malala, who was shot last year by the Taliban for campaigning for girls' education, and a British journalist, Christina Lamb.
In the book, Malala talks of her life in Swat Valley where her father ran a private school when it was under Taliban rule, of writing an anonymous blog for the BBC, and of her campaign for girls' education.
Following its release last month, the Taliban threatened to attack stores that stocked the book.
Get Breaking news, live coverage, and Latest News from India and around the world on NDTV.com. Catch all the Live TV action on NDTV 24x7 and NDTV India. Like us on Facebook or follow us on Twitter and Instagram for latest news and live news updates.